Chopper crash leaves 16 missing
TIME RUNNING OUT One person was hospitalized and another is dead after a helicopter ferrying workers to an oil rig fell into the sea off the Canadian coast
Canadian rescuers searched freezing waters for 16 missing people after a helicopter heading to Atlantic oil fields reported mechanical problems and ditched in the sea off Newfoundland.
Of the 18 people aboard, one man was rescued and one body was recovered. Officials said the others were missing about 50km out to sea.
There were no signs of more survivors hours after the accident took place on Thursday morning, but rescuers were holding out hope since those aboard were believed to be wearing survival suits, which serve as life preservers and retain body warmth in frigid waters.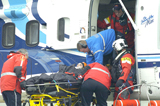 A survivor is removed from a Cougar helicopter on the helicopter tarmac at the Health Sciences Center in St John's, Newfoundland, Canada, on Thursday. The survivor was among 18 people aboard a Cougar helicopter offshore shuttle that crashed after reporting mechanical problems.
PHOTO: AP
"We'll continue to search until there is absolutely no chance that any survivors may be located," said Major Denis McGuire of Halifax's Rescue Coordination Center.
The survival window is about 24 hours with the suits and water-activated locator beacons, McGuire said. Correcting an earlier statement, McGuire said there had been no signals from the beacons.
The accident happened around 8am EDT (12pm GMT).
Water temperatures were right at freezing and the ocean was buffeted by strong winds and waves up to 3m, officials said.
Two life rafts were spotted in the water amid debris from the helicopter that was spread over a 10km area, but rescuers later confirmed they were empty.
Survivor Robert Decker was listed in critical but stable condition at St John's hospital after being pulled from the water by another helicopter. The St John's Telegram reported he was suffering from salt in his lungs, a broken bone and hypothermia.
The center said one body had also been recovered.
"Our thoughts and prayers are with the families who are anxiously awaiting word on their loved ones," Canadian Prime Minister Stephen Harper said in Parliament.
The Canadian S-92 Sikorsky helicopter, described as no more than four years old, went down 88km southeast of St John's, said Rick Burt of Cougar Helicopters, the ­operator of the aircraft.
The chopper called for help around 8am EDT as it headed to two oil platforms, Dave Bowen of the rescue center said.
"Mechanical problems were reported, but we don't know the nature," Transportation Safety Board of Canada spokeswoman Julie Leroux said.
The pilot had said he would try to turn back to St John's, Burt added.
The crew of a Provincial Airlines aircraft flying over the area reported seeing the craft floating upside down a few minutes after the crash.
The Hibernia oil platform is located about 320km east of St John's. The helicopter had also planned to visit the nearby SeaRose oil platform.
Comments will be moderated. Keep comments relevant to the article. Remarks containing abusive and obscene language, personal attacks of any kind or promotion will be removed and the user banned. Final decision will be at the discretion of the Taipei Times.