Bangladesh buries slain army officers
MURDEROUS MUTINY A bloody insurrection has raised questions about the stability of Bangladeshi Prime Minister Sheikh Hasina's government in a nation plagued by coups
Air force jets flew overhead in salute yesterday as Bangladesh held a mass state funeral for 49 army officers and one family member slain in a two-day mutiny by border guards that left as many as 148 people dead or missing.
Bangladeshi President Zillur Rahman and army chief General Moeen U. Ahmed led thousands of mourners at Muslim funeral prayers at a national parade ground in Dhaka, as the aircraft flew overhead.
Fifty flag-draped coffins, including two with remains of border guards chief Major-General Shakil Ahmed and his wife, Nazneen, were later carried away for burial at a graveyard near military headquarters.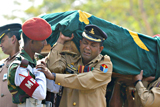 A Bangladeshi army officer breaks down in tears during a funeral ceremony in Dhaka yesterday as he carries the coffin of a comrade killed in a mutiny.
PHOTO: AFP
Bangladeshi Prime Minister Sheikh Hasina's government said it planned to form a tribunal to try those who organized the mutiny last Wednesday and Thursday, which she has called "a planned massacre" that may have received outside help.
Police have charged more than 1,000 border guards with murder, arson and hostage-taking during the mutiny, which ended through negotiations, promises of amnesty and threats of military force.
The government later withdrew its promise of amnesty for those directly responsible for the mutiny and massacre and sought to repair tense relations with the military.
Only 33 army officers are known to have survived the uprising that began on Wednesday at the Bangladesh Rifles border force headquarters, where as many as 181 officers were present for an annual meeting. Rescuers have recovered 77 bodies, while 71 officers were still unaccounted for.
The rebellion apparently erupted over the guards' long-standing demands for parity in pay and other perks enjoyed by army officers, who lead the border forces.
Army troops, meanwhile, were deployed to help police search for border guards who failed to report back to bases following a government ultimatum ending on Sunday.
Hasina on Sunday met with military officials, who were furious that she had offered amnesty to the mutinous border guards to persuade them to surrender. The officers argued that lives could have been saved if Hasina had ordered an army assault on the guards' compound.
The US Embassy said Washington has offered support, and Hasina told Parliament she has asked for help from the FBI to investigate the uprising.
"We'll definitely unearth everything," she said.
Teams searched for bodies buried in the compound or dumped in nearby sewers. Most of the missing were presumed dead, said Sheikh Mohammad Shajalal, a firefighter overseeing the search.
The insurrection has raised questions about the stability of Hasina's two-month-old government in the impoverished South Asian country, which has seen nearly two dozen successful and failed military coups in its 38-year history.
The charges filed on Sunday named six border guards — including a deputy assistant director who led a team that negotiated the surrender with the government — and left more than 1,000 unnamed, police official Nobojyoti Khisa said. Thousands of border guards were at the headquarters when the mutiny began on Wednesday.
Some questioned whether the border guards acted on their own.
Ruling party spokesman Syed Ashraful Islam said initial evidence suggested the mutinous guards may have had outside assistance, but he did not elaborate.
Farukh Khan, a member of Hasina's Cabinet and a former army officer, dismissed claims the mutiny was over low pay and told Parliament on Sunday that it was part of a "deep-rooted conspiracy" by people who wanted to destabilize the country.
Comments will be moderated. Keep comments relevant to the article. Remarks containing abusive and obscene language, personal attacks of any kind or promotion will be removed and the user banned. Final decision will be at the discretion of the Taipei Times.