Guinea-Bissau president Vieira killed by soldiers
SMELLS OF A COUP Troops attacked the presidential palace with rockets and rifles. The president's press chief reportedly escaped after being hit by a bullet
Renegade soldiers killed Guinea-Bissau President Joao Bernardo Vieira in his palace yesterday, hours after a bomb blast took the life of his rival, the fragile West African country's armed forces chief.
It was not immediately clear whether a coup was under way, and the capital, Bissau, was tense but calm.
Luis Sanca, security adviser to Prime Minister Carlos Gomes Jr, confirmed the president's death, but gave no details.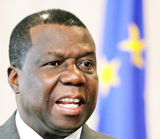 Late Guinea-Bissau president Joao Bernardo Vieira gives a press conference after a bilateral meeting on May 18, 2006, at the EU Commission's headquarters in Brussels. Vieira was killed by soldiers early yesterday in clashes after a bomb attack in which the West African country's military chief of staff was killed, an army spokesman said.
PHOTO: AFP
A bomb blast on Sunday night killed armed forces chief of staff General Batiste Tagme na Waie at his headquarters in Bissau, according to a state radio report.
The two men were considered staunch political rivals.
Guinea-Bissau has suffered multiple coups and attempted coups since 1980, when Vieira himself first took power in one. The UN said the impoverished nation on the Atlantic coast of Africa has become a key transit point for cocaine smuggled from Latin America to Europe.
Just hours after Waie's death late on Sunday, volleys of automatic gunfire were heard for at least two hours before dawn in Bissau and residents said soldiers had converged on Vieira's palace.
The Portuguese news agency LUSA reported that troops attacked with rockets and rifles. The president's press chief, Barnabe Gomes, escaped from the house after being struck by a bullet in his right shoulder, LUSA said.
It was the second attack on Vieira in recent months. In November, Vieira's residence was attacked by renegade soldiers with automatic weapons. At least one guard was killed in the failed coup attempt that was repulsed by loyalist security forces.
Waie also survived an apparent assassination attempt when unidentified attackers opened fire on his car in January.
It was not immediately clear what caused the blast that killed Waie.
Comments will be moderated. Keep comments relevant to the article. Remarks containing abusive and obscene language, personal attacks of any kind or promotion will be removed and the user banned. Final decision will be at the discretion of the Taipei Times.