Al-Qaeda video operative killed
MISSILE STRIKES A series of suspected US missile strikes on Pakistani territory came two days after Islamabad summoned Washington's ambassador to lodge a protest
A wanted Egyptian al-Qaeda operative who has appeared in some of the network's videos was killed in a suspected US missile strike in Pakistan, a security official said yesterday.
Abu Jihad al-Masri was among several rebels killed when two missiles fired by a spy drone hit a truck in the North Waziristan tribal region bordering Afghanistan on Friday night, the senior official said.
The US has offered a US$1 million reward for the death or capture of al-Masri, the Rewards for Justice Web site run by the US State Department says.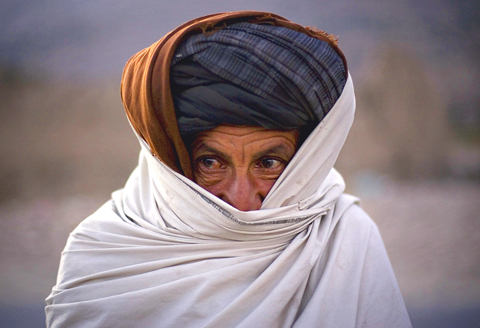 A Pakistani man sits on the debris of his house, unseen, destroyed by an earthquake in Ziarat, about 130km south of Quetta, Pakistan, yesterday.
PHOTO: AP
In 2006, he appeared in a video introduced by his fellow countryman Ayman al-Zawahiri, Osama bin Laden's deputy, in which he said that his own Islamic group, al-Jamaa al-Islamiya, had joined forces with al-Qaeda.
The video was released by As Sahab, al-Qaeda's media arm.
His death came in one of two separate missile attacks in Pakistan's tribal belt on Friday, the latest in series of attacks that have raised tensions between Washington and Islamabad.
The attacks also come just days before the US presidential election, in which the "war on terror" in Afghanistan and, increasingly, Pakistan has been a key foreign policy issue.
Meanwhile, suspected US missiles struck two deadly blows on Friday, killing 32 mainly al-Qaeda operatives and injuring a key Taliban commander in a Pakistani tribal area near the Afghan border, officials said.
In the first attack two missiles hit a pick-up truck and a house west of Mir Ali, a town in the troubled North Waziristan region bordering Afghanistan, killing 20 mainly Arab militants, officials said.
They said the strike targeted an al-Qaeda financial coordinator known as Abu Akasa al-Iraqi and that there were unconfirmed local reports that he was among the dead.
Two further missiles fired by a suspected US drone at a militant hideout near Wana, the main town in neighboring South Waziristan, killed 12 suspected rebels soon after, a senior security official said. They included "foreigners", the official said — using the term by which security services refer to al-Qaeda operatives.
Officials said top Taliban commander Mullah Nazir was wounded in the strike.
"Nazir sustained injuries and was rushed to a hospital by Taliban. We are not sure about the seriousness of injuries to him" a top security official said. "In the two strikes the majority of those killed were al-Qaeda operatives and some Taliban local commanders."
Local administration official Mowaz Khan also confirmed Nazir, who leads the Pakistani Taliban faction accused by the US of sending fighters across the border, was wounded in the attack.
The attacks came just two days after Pakistan, a key ally in the US-led "war on terror," summoned Washington's ambassador to Islamabad to deliver a strong protest over a number of similar strikes.
"Some 20 militants were killed in the attack and most were Arabs. It was a successful strike," another security official said on condition of anonymity, referring to the first attack.
Comments will be moderated. Keep comments relevant to the article. Remarks containing abusive and obscene language, personal attacks of any kind or promotion will be removed and the user banned. Final decision will be at the discretion of the Taipei Times.