World News Quick Take
■AUSTRALIA
Naked woman falls to death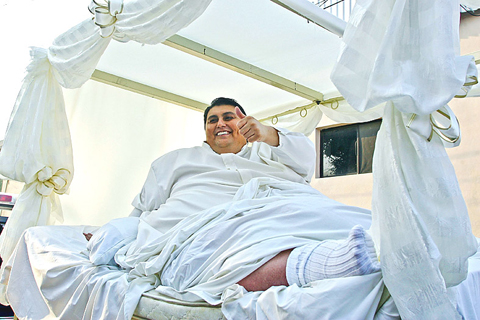 PHOTO: AFP
A naked Chinese woman fell to her death from a third-floor balcony while trying to escape a knife-wielding intruder who had forced himself inside her apartment, police said yesterday. The body of the 18-year-old woman was found on the ground outside her Sydney residence on Sunday. Her 19-year-old Korean boyfriend, who was also naked when he tumbled from the balcony, was in a hospital with fractured vertebrae, a broken pelvis and two broken legs. "It's believed the deceased and the injured male were trying to get to the next level — from level three to level two — to try and get away from the offender," New South Wales police superintendent Luke Freudenstein said. He said it appeared that the intruder followed a woman who was visiting the couple into the security entrance when she was buzzed in and then held a knife to her throat and demanded she let him into the apartment. He was allegedly inside the home for an hour before the couple tried to escape and remains on the run.
■HONG KONG
No men manning tills
A men's group called on supermarket chains yesterday to employ male cashiers after failing to find a single man working a checkout lane in the city of 6.9 million. The Hong Kong Men's Concern Group counted 239 female cashiers and not one male cashier in a survey of 30 supermarkets conducted with the help of a legislator. The group said that men should be given a chance to work at supermarket tills and claimed that the lack of male checkout staff proved sex discrimination by the stores.
■JAPAN
Cold-footed man sets fire
A man set fire to the hotel where he was to get married at the weekend rather than go through with the ceremony later the same day, reports said yesterday. Tatsuhiko Kawata, 39, had gone along with wedding plans despite already having a wife, the Yomiuri Shimbun said. "I thought if I set a fire I wouldn't have to go through with the wedding," he told police. Guests were evacuated and no one was injured when he set the fire in the early hours of Sunday morning at the hotel in Yamanashi Prefecture. Kawata was arrested after suddenly canceling the event and behaving suspiciously.
■NORTH KOREA
Surgeon visits Kim: report
The eldest son of leader Kim Jong-il visited a Paris brain surgeon who apparently flew to Pyongyang to treat his father, Japanese TV reported yesterday. Japan's Fuji Television showed footage from Paris of a man it identified as Kim Jong-nam, the leader's eldest son. "He is believed to have met with a French brain surgeon, who later departed from Paris for Pyongyang under North Korean escort," the network said. Kim spent two hours in the hospital last week where he is believed to have visited its neurosurgery department, it added.
■VIETNAM
Airport fire closes terminal
A fire at the country's biggest airport closed its domestic terminal yesterday, the airport authority said. The blaze at Tan Son Nhat Airport in Ho Chi Minh City broke out early yesterday morning. A statement released by the Southern Airport Authority said firefighters battled for two hours to bring the fire under control. No one was injured in the fire, but operations at the airport were disrupted. "The domestic terminal has been temporarily closed as from 5am local time Monday," said the statement. "Services will continue as normal ... with domestic flights operating out of the international terminal."
■HUNGARY
Ex judo Olympian arrested
A former judo international who took part in the 2000 Sydney Olympics has been arrested for allegedly making bombs, police in Budapest said on Sunday. The 33-year-old wasn't named by the authorities, but a national radio report claimed the man was Krisztian Tolgyesi, who is suspected of being a member of a far-right organization "Lelkiismeret 88" ("Conscience 88"). "On Saturday, we placed the person, whose car contained homemade bombs, under arrest," said Laszlo Bartha, the spokesman for the national bureau of investigation. The devices, designed to be activated by remote control, were discovered on Thursday in the ex-judoka's car in Budapest during demonstrations being staged to celebrate Hungary's national day.
■GERMANY
Alternative housing project
A housing project, which will provide homes exclusively for gays, lesbians, transsexuals and their families, is being set up in Cologne as an experiment in multigenerational living. Villa Anders (alternative villa) in the working-class district of Ehrenfeld, Cologne, is the first project of its kind in the country. Once the 6.7 million euro (US$8.3 million) building is complete, its 35 flats will offer people of all ages the chance to live in a discrimination-free environment, say the organizers, the Gay and Lesbian Living Association. More than half of the homes have been sold.
■ITALY
Last WWI veteran dies
Delfino Borroni, the last surviving Italian veteran of World War I, died on Sunday in a rest home at age 110, Italian television reported. Born Aug. 23, 1898, in Turago Bordone, a small northern village, Borroni had fought on the Italian-Austrian front as a soldier in the light infantry Bersaglieri corps. He returned home for Christmas in 1918 before finding a job three years later as a trolley driver in the Milan region. After retiring, he continued to use his talent to fix bicycles for which he had a passion. His passing comes after the deaths this year of two other World War I veterans, Francesco Domenico Chiarello and Lazarre Ponticelli.
■EGYPT
Police arrest swingers
Police have arrested a couple for allegedly swapping sex partners with other married couples, security officials said Sunday. The two — a civil servant and his teacher wife — allegedly solicited other couples over the Internet and invited them to their home, the officials said. The couple allegedly held at least three such sex parties, and police are looking for the others who participated, said the officials, who are involved in the investigation. Sex out of wedlock is illegal in Egypt, where the Constitution says Islamic law is the main source of legislation.
■GERMANY
Biggest mosque opens
The opening of the biggest mosque on Sunday is intended to help break down barriers between Turks and Germans and ease sometimes strained community relations, politicians and Muslims said on Sunday. About 8,000 people joined celebrations in the Marxloh suburb of the industrial northwestern city of Duisburg to mark the opening of the Merkez Mosque, with its 34m-high minaret and room for 1,200 worshippers. In contrast to openings of mosques elsewhere, notably one in Berlin earlier this month that drew heavy protests from local residents, the ceremony went off with no demonstrations. Instead, buoyed by a festive atmosphere, Muslims and Christians ate donor kebabs and drank tea.
■MEXICO
Heaviest man marries
The world's heaviest man has tied the knot. The 43-year-old Manuel Uribe, who hasn't left his bed in six years, married his longtime girlfriend Claudia Solis, 38, on Sunday in Monterrey. Wearing a white silk shirt with a sheet wrapped around his legs, Uribe smiled as Solis, 38, walked down a flight of stairs wearing a strapless ivory dress, a tiara and hot-pink lipstick. The ceremony was attended by more than 400 guests. Uribe's mother, Orquedia Garza, said he steered clear of the five-tier wedding cake. A flatbed truck was brought in to tow his custom-made bed decorated with a canopy, flowers and gold-trimmed bows to the wedding at a local event hall. Uribe tipped the scales in 2006 at 560kg. He has since shed about 250kg with the help of Solis, whom he met four years ago.
■UNITED STATES
Two killed in school attack
A shooting at the University of Central Arkansas (UCA) killed two people and wounded a third on Sunday night, police said. UCA police spokeswoman Lieutenant Rhonda Swindle said the shots were fired at a little after 9pm near a dormitory. She said she could not say whether the victims were students, but she did say all three were male. The campus was locked down yesterday and that classes were canceled. The university police Web site said one person was in custody and three others were being sought.
■UNITED STATES
Bees kill three dogs
A 70-year-old woman was injured and three dogs are dead after a swarm of bees terrorized a neighborhood in Rivera South Florida. Authorities say crews removed 22kg of honeycomb from the side of a home in Palm Beach County after Friday's attack. The bees swarmed Nancy Hill and her two dogs. Hill was treated at a hospital, but the dogs died. The bees also attacked two other dogs in the neighborhood. One of those died and the other was injured. Lab tests should determine whether the bees were Africanized bees, also known as killer bees. They are far more aggressive than ordinary bees and attack in swarms.
■UNITED KINGDOM
Monogamy disliked: poll
One in five Britons find monogamy undesirable and nearly a third think it is unnatural, a sex survey by published in the Observer on Sunday said. Asked about homosexuality, 24 percent of respondents thought gay sex should be made illegal. The ICM poll found that women were more likely to view monogamy as natural and desirable, while young Britons were "significantly more promiscuous than previous generations." The survey found that 18 percent had been unfaithful to their current partner, with 56 percent of those having been unfaithful with a friend of their partner, or someone known to their partner. Some 49 percent said they had had a one-night stand.
■IRELAND
Air crash kills four
Search and rescue teams found four bodies in the wreckage of a small airplane in a mountainous area near the east coast on Sunday, authorities said. Rescuers had been searching for the private, single-engine plane that left Gloucester airport in England on Saturday and failed arrive at its destination.
Comments will be moderated. Keep comments relevant to the article. Remarks containing abusive and obscene language, personal attacks of any kind or promotion will be removed and the user banned. Final decision will be at the discretion of the Taipei Times.