'No. 2' al-Qaeda in Iraq leader killed
LEADERLESS After the network's founder Abu Musab al-Zarqawi was killed by a US airstrike in 2006, Abu Qaswarah was alleged to be the sole leader of the group
US soldiers killed the alleged No. 2 leader of al-Qaeda in Iraq (AQI), a Moroccan who trained in Afghanistan, recruited foreign fighters and ran operations in northern Iraq where Sunni insurgents remain a potent threat, the US military said on Wednesday.
The man, who the military said was known as Abu Qaswarah, died on Oct. 5 during a raid on a building in the northern city of Mosul that served as a major "command and control location" for the region.
Four other insurgents were also killed in the operation, the US said.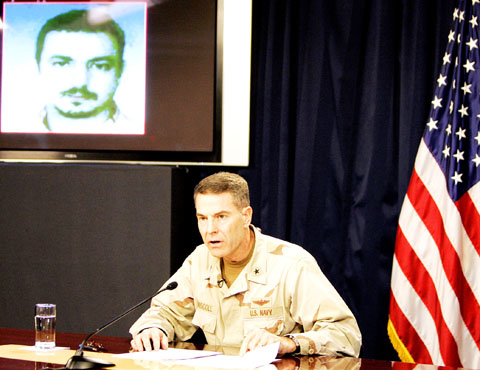 US Rear Admiral Patrick Driscoll, spokesman for the multinational force in Iraq, speaks at a press conference in Baghdad on Wednesday about Abu Qaswarah, seen on the screen, the No. 2 leader of al-Qaida in Iraq, who was killed in Mosul.
PHOTO: AP
The announcement of Abu Qaswarah's death was withheld until Wednesday to allow for positive identification, the military said.
US officials described Abu Qaswarah, also known as Abu Sara, as a charismatic figure, who had rallied al-Qaeda's network in the north after the movement suffered major setbacks in Baghdad and other former strongholds.
The Swedish news agency TT reported that the man was also a Swedish citizen. Swedish officials confirmed that a Moroccan Swede suspected of al-Qaeda ties was killed earlier this month and that he was on the UN and the EU terror watch lists.
They declined to elaborate and it was unclear whether the Swede may have been among the four others killed.
On Oct. 5, the US military reported that 11 people including women and children died in Mosul when an extremist detonated a suicide vest, but it was unclear if this was the same incident in which Abu Qaswarah died.
The death of such a senior al-Qaeda leader will cause a major disruption to the terror network, particularly in northern Iraq, where the movement remains active, the military said.
"It's going to be much more difficult for the factions left in that area to network and operate among themselves," US spokesman Brigadier General David Perkins said. "It allows the Iraqi security forces with the support of the coalition to go in and continue to tear apart that network."
US military officials said Abu Qaswarah, whose real name was unavailable, was a key figure in the al-Qaeda network with ties to the movement's global leadership in Pakistan and Afghanistan, where he trained.
That suggested that many of al-Qaeda in Iraq's key leaders have remained in the country despite recent reports that many foreign fighters had fled to Afghanistan and Pakistan, where fighting has been on the rise.
A US statement said Abu Qaswarah became the movement's emir, or chief, for northern Iraq in June last year and served as second-in-command of al-Qaeda in Iraq behind the group's shadowy national leader Abu Ayyub al-Masri, also known as Abu Hamza al-Muhajir.
During a news conference, Rear Admiral Patrick Driscoll, another US spokesman, said Abu Qaswarah supervised the smuggling of foreign fighters into northern Iraq and reportedly killed those who tried to return home rather than carry out suicide bombings and other attacks against Iraqis.
"His death will significantly degrade AQI operations in Mosul and northern Iraq, leaving the network without a leader to oversee and coordinate its operations in the region," the US statement said.
It was unclear what effect Abu Qaswarah's death would have on al-Qaeda operations in Mosul.
Senior US military officers have said al-Qaeda in Iraq has proven more resilient than other insurgent groups because of its ability to successfully replace its leaders who are killed or captured.
Comments will be moderated. Keep comments relevant to the article. Remarks containing abusive and obscene language, personal attacks of any kind or promotion will be removed and the user banned. Final decision will be at the discretion of the Taipei Times.