Aliyev wins almost 90% of the vote in Azerbaijan
Azerbaijani President Ilham Aliyev won almost 90 percent of the vote to secure another five-year term in the oil-rich Caspian state in an election boycotted by the only real opposition, the country's central election committee said.
Aliyev, 46, son of the post-Soviet state's former strong-arm ruler, grabbed 89.04 percent of the ballots, Russia's Itar-Tass news agency quoted the commission as saying late on Wednesday after about 70 percent of the vote had been counted.
Authorities said there had been a high turnout of 75.65 percent, despite reports by European election monitors of widespread apathy among the country's 4.8 million voters.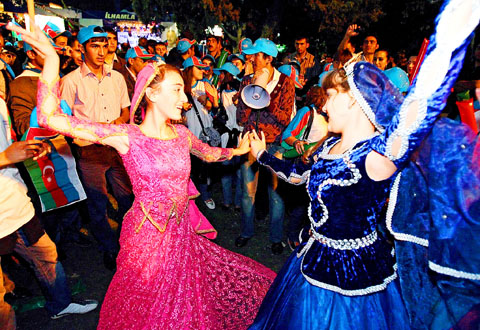 Supporters of Azerbaijani President Ilham Aliyev celebrate after the polls close following the presidential elections in Baku on Wednesday. Seeped in oil wealth and in the cross hairs of a regional power struggle between the US and Russia, Azerbaijan voted to re-elect President Ilham Aliyev, whose only real opponents boycotted the election.
PHOTO: EPA
OBSERVERS
A thousand international observers were watching the vote on Wednesday, including nearly 400 from the Organization for Security and Cooperation in Europe, which was to publish its assessment yesterday.
In a first reaction after the polls closed, the observers said there had been no initial reports about grave problems. The country's main opposition parties decried the elections as a farce and criticized systematic discrimination.
The six contestants joining Aliyev on Wednesday's ballot were seen as mere place cards after the only opposition candidates who could have provided a ghost of a challenge boycotted the vote.
INTRIGUE
The only intrigue as the Central Asian nation voted on Wednesday was how Aliyev would keep up his balancing act between Moscow and Washington as both increase their jostling over Azerbaijan's energy resources after Russia's war with Georgia in August.
Azerbaijan is key to Washington's policy of securing Caspian Sea oil and gas through the Baku-Tbilisi-Ceyhan pipeline, bypassing Russia.
Azerbaijan's oil riches have yielded one of the world's fastest- growing economies, with Aliyev reaping praise for infrastructure projects amid an astounding growth rate of more than 34 percent in 2006, the latest year from which statistics were available.
Comments will be moderated. Keep comments relevant to the article. Remarks containing abusive and obscene language, personal attacks of any kind or promotion will be removed and the user banned. Final decision will be at the discretion of the Taipei Times.