Aid, rescue workers sent to Tibet after quake kills 10
Rescuers rushed tents, food and water to villagers in Tibet yesterday after an earthquake and scores of aftershocks rattled the capital and surrounding areas, killing at least 10 people and collapsing hundreds of houses.
State media said soldiers and rescue dogs were searching through rubble for people in Yangyi, the hardest-hit village in Dangxiong County, where the magnitude 6.6 quake struck late on Monday afternoon.
Xinhua news agency said nine people were killed in Yangyi. The 10th death was a high school student killed in a stampede in Shannan Prefecture, about 200km southwest of Dangxiong, during a quake evacuation, Xinhua said.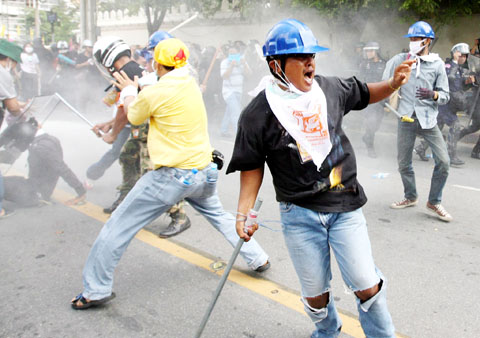 Usable belongings have been removed from a damaged building in Gedar Township, Dangxiong County, China, on Monday after an earthquake struck the Tibetan region, killing at least 10 people.
PHOTO: AP/XINHUA
Nineteen people were injured in Yangyi, many with bone fractures, Xinhua said, mostly women, children and the elderly because the men were away harvesting and foraging for winter.
About 171 homes were destroyed. Photos on the central government's Web site show piles of concrete — all that remained of collapsed houses — and the exposed roots of trees ripped from the ground.
"Almost all the buildings have collapsed in Yangyi," said Yi Xi, an employee of the Geda Township government, which oversees the village. "I went there earlier and did not see a single one still standing."
"Our efforts are focused on providing them food and shelter," she said in a telephone interview.
Tenzin Chodrak, who escaped because he was putting extra hay into the sheepfold when the quake struck and his home collapsed, told Xinhua his nephew was killed and his mother was injured.
"I can't believe it," Nyima, a Tibetan herder who lost her two-year-old daughter, was quoted as saying by Xinhua as she wept.
The agency said at least 700 rescuers were working yesterday, with soldiers putting up more tents hoping to accommodate all the villagers by dusk. Health workers were doing checkups and sanitizing the area to prevent epidemics, it said.
Dangxiong County is about 80km west of Lhasa.
Many families stayed in tents on Monday night because they were afraid their homes would fall down. The regional seismological bureau registered 188 aftershocks by 7am yesterday), Xinhua said, including one above magnitude 6.0.
None of Lhasa's landmarks, such as the Potala Palace and Jokhang Temple, appeared to be damaged.
Comments will be moderated. Keep comments relevant to the article. Remarks containing abusive and obscene language, personal attacks of any kind or promotion will be removed and the user banned. Final decision will be at the discretion of the Taipei Times.