S Korea and US conduct military exercise
GETTING TOUGH Pyongyang criticized the US for failing so far to remove it from a terrorism blacklist, saying Washington was not honoring a denuclearization deal
South Korea and the US yesterday began a joint military exercise involving tens of thousands of troops that North Korea charged was aimed at starting a new war on the peninsula.
Seoul's Joint Chiefs of Staff office said 56,000 South Korean troops and 10,000 US soldiers were taking part in the annual five-day Ulchi Freedom Guardian drill, which involves computer-simulated war games.
About 4,000 government offices and more than 300,000 civil servants nationwide are also involved.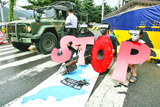 South Korean protesters with toy weapons symbolizing the US perform on a map of the Korean Peninsula as a South Korean Army vehicle passes by during a rally denouncing a South Korea-US military exercise, Ulchi Freedom Guardian, in front of South Korean and US War Command Center TANGO (Theater Air, Navy, Ground Operation) in Seongnam, south of Seoul, South Korea, yesterday.
PHOTO: AP
South Korean President Lee Myung-bak presided over a National Security Council meeting and a separate Cabinet meeting in an underground bunker as part of the exercise, his office said.
"We must maintain thorough preparations as there is always the possibility of a limited conflict with North Korea," Lee told his Cabinet.
The North, he told them, will also "steadily attempt to promote an ideological rift in South Korea. We should be fully prepared for that."
The North routinely criticizes such exercises as a prelude to invasion, while the US and its ally South Korea say they are purely defensive.
Such exercises "are aimed to ignite a new war on the Korean peninsula and stifle the DPRK [North Korea] by force of arms," said Rodong Sinmun, newspaper of the ruling Communist Party.
Meanwhile, Lee has urged North Korea to open up to the world to revive its moribund economy.
"I have a sincere principle that North Korea should quickly open and build economic self-reliance in the international community," Lee said in an interview with Yahoo.com posted yesterday.
North Korea introduced limited economic reforms in 2002 but has since backtracked after they failed to resuscitate its economy and allowed some outside influences into the tightly controlled nation.
Lee, a former construction industry chief executive, also urged North Korea to forge "coexistence and co-prosperity" through sincere talks with South Korea, saying he is confident the two Koreas will soon improve their current soured relations.
Also, North Korea yesterday criticized the US for failing so far to remove it from a terrorism blacklist, saying Washington was not honoring a six-nation denuclearization deal.
The commentary by the official Korean Central News Agency (KCNA) was the first response to Washington's refusal to act until agreement is reached on ways to verify the North's declaration of its atomic activities.
After the North submitted its declaration in June, US President George W. Bush told Congress he planned to remove it from a list of state sponsors of terrorism which blocks US economic aid and assistance from multilateral agencies.
Comments will be moderated. Keep comments relevant to the article. Remarks containing abusive and obscene language, personal attacks of any kind or promotion will be removed and the user banned. Final decision will be at the discretion of the Taipei Times.