Brazil welcomes prince for Japanese anniversary
Japanese Crown Prince Naruhito met Brazilian President Luiz Inacio Lula da Silva on Wednesday and thanked Brazil for opening its doors to what became the largest Japanese community outside of Japan.
Naruhito is in Brazil on an 11-day visit to take part in celebrations marking the 100th anniversary of Japanese immigration to Latin America's largest country.
During a brief ceremony in the Planalto Presidential Palace in Brasilia, Naruhito received two commemorative stamps and a coin issued to honor the nearly 800 Japanese who, on June 18, 1908, arrived in the port of Santos aboard the steamship Kasato Maru.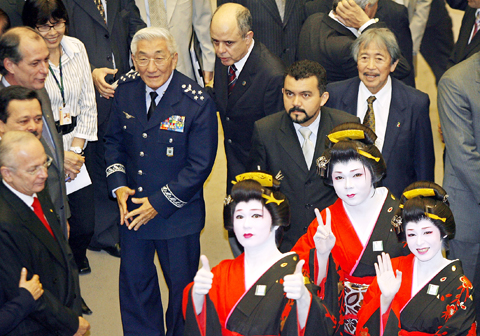 Women dressed as geishas gesture as they attend a ceremony honoring Japanese Crown Prince Naruhito in Brasilia on Wednesday. Naruhito is in Brazil to take part in celebrations marking the 100th anniversary of Japanese immigration to Latin America's largest country.
PHOTO: AP
Those first pioneers spurred a wave of immigration that has grown to a 1.5 million-strong community.
"We cannot imagine how many difficulties the immigrants faced," Prince Naruhito said, speaking in Japanese.
"Despite such a rigorous situation, the immigrants called upon their energy, they did not lose hope, they became integrated in the local community and slowly they won the confidence of the Brazilian people," he said.
"The stamps and coin symbolize the friendship of the Brazilian government and society," he said.
Lula said the visit underscores the important role the Japanese community has played in Brazil's history.
"It did not take long for the immigrants ... to show their full potential in the country's productive system, the arts, sciences and politics," he said in a speech.
"They helped build Brazil and the strong ties that join the two countries," he said.
He said Japan has always invested "in areas crucial to Brazil's development like agriculture and steel" and that the two countries should work together in projects involving "biofuels and state-of the-art technology."
Yesterday, the prince was scheduled to visit Sao Paulo, home of most of Brazil's large Japanese community. Tomorrow he is to attend a show of taiko drummers and traditional awa odori and bon odori dances in Sao Paulo's 25,000-seat "sambodromo'' stadium, famous for its parades during Carnival.
On Sunday, the prince will visit towns in Sao Paulo state that are of historical importance for the migrants, and the following day he will head to Rio de Janeiro.
Both security and protocol are tight for the prince's visit. Journalists have been told to not walk in front of him, to photograph or film him outside of set areas, or attempt to ask him any questions.
Comments will be moderated. Keep comments relevant to the article. Remarks containing abusive and obscene language, personal attacks of any kind or promotion will be removed and the user banned. Final decision will be at the discretion of the Taipei Times.