Afghan, NATO troops battle militants
DIFFERENT STORIES NATO did not comment on a provincial report that all the Taliban insurgents had been driven out, but said there had been minor incidents in the operation
Afghan and NATO forces cleared Taliban militants from villages near Kandahar yesterday, killing or wounding hundreds of rebels in a major operation, a provincial governor said.
Kandahar Governor Asadullah Khaled said troops had driven all insurgents from the southern district of Arghandab, a day after around 1,000 soldiers launched a huge offensive against the hardline rebels.
The NATO-led International Security Assistance Force (ISAF) did not comment on the governor's statement, but earlier said there had been only minor incidents so far, with many of the rebels apparently refusing to fight.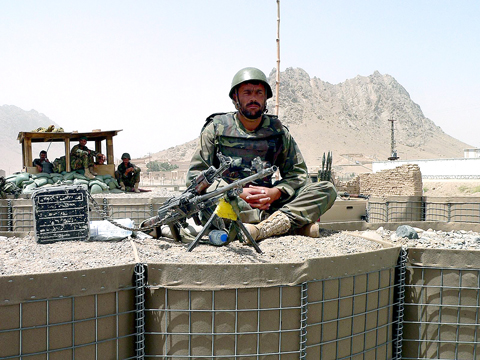 An Afghan National Army soldier mans a roadside checkpoint in the hunt for escaped Taliban inmates in the restive Arghandab district of Kandahar, Afghanistan, yesterday. Afghan authorities said that more than 500 Taliban have massed in two villages in Arghandab on the outskirts of Kandahar following a prison break.
PHOTO: EPA
"All the area is cleared of Taliban. There are hundreds of Taliban killed and wounded, the wounded are captured," Khaled told a news conference.
"The dead are mostly Pakistanis," he said, adding that the remaining militants had fled to two nearby districts and search operations by Afghan and Canadian NATO troops were continuing.
Afghan President Hamid Karzai, under pressure after a mass jailbreak by Taliban militants in Kandahar last week, caused a storm at the weekend by saying Afghanistan would be justified in attacking rebels on Pakistani soil.
Afghan officials had said that hundreds of insurgents flooded Arghandab on Monday after the prison escape, while the Taliban said many of those entrenched in the district were former inmates.
NATO, however, had earlier played down the number of militants in the area.
"So far our assessment is that if the insurgents are there they have not the numbers and the foothold that they previously claimed and, obviously, they did choose not to fight," ISAF spokesman General Carlos Branco said.
NATO forces used air power only against "positively identified groups of insurgents that targeted one helicopter, which acted in self defense," he said.
Branco said only one civilian was killed in the fighting. A second Afghan civilian, two Afghan soldiers, three ISAF civilian workers and a NATO television cameraman were wounded, he said.
The forces would "continue to progress steadily, avoiding civilian casualties and potential IED's [improvised explosive devices] left behind and we do not expect any dramatic changes in the behavior of the insurgents," Branco said.
The build-up of Taliban in Arghandab, seen by the rebels as a strategic stepping stone to Kandahar, comes amid the bloodiest phase of the insurgency launched after the hardline movement was toppled in 2001.
The Taliban said in a statement on their Web site that a group of "martyrdom attackers" had entered Kandahar city to target Canadian and Afghan soldiers and Afghan officials, the SITE Intelligence Group said.
Taliban spokesman Yousuf Ahmadi earlier vowed fierce resistance in Arghandab itself and said the rebels hoped to use the district to launch attacks on Kandahar.
The city, Afghanistan's second biggest, was where the austere Islamists rose to power in the 1990s before taking control of the rest of the country.
With nearly 70,000 foreign troops in Afghanistan, Karzai has come under growing pressure from his Western allies to improve security, but the Afghan leader has faced a series of setbacks including the major prison break last Friday.
The operation began as the deaths of six NATO soldiers were announced elsewhere in Afghanistan. Four were British, including the country's first female casualty in Afghanistan, in the southern province of Helmand.
However, US Ambassador to Afghanistan William Wood insisted the Taliban were losing despite the jailbreak and the fighting in Arghandab.
"I would like to point out that six months ago there was also fighting in Arghandab and there was lots of headlines then that said Arghandab is about to fall and that wasn't right then and it's not going to be right now," he told reporters during a visit to Washington.
Comments will be moderated. Keep comments relevant to the article. Remarks containing abusive and obscene language, personal attacks of any kind or promotion will be removed and the user banned. Final decision will be at the discretion of the Taipei Times.