Fire at Universal Studios destroys sets, video vault
One of Hollywood's largest movie studios starred in a disastrous sequel as a fire ripped through a lot at Universal Studios, destroying a set from Back to the Future, a King Kong exhibit and a streetscape seen frequently in movies and TV shows.
It was the second fire at the historic site in nearly two decades, leveling facades, hollowing out buildings and creating the kind of catastrophe filmmakers relish re-creating. This time around, thousands of videos chronicling Universal's movie and TV shows were destroyed in Sunday's blaze.
But Universal officials said that they were thankful no visitors were seriously injured — though several firefighters suffered minor injuries — and that the damaged footage can be replaced.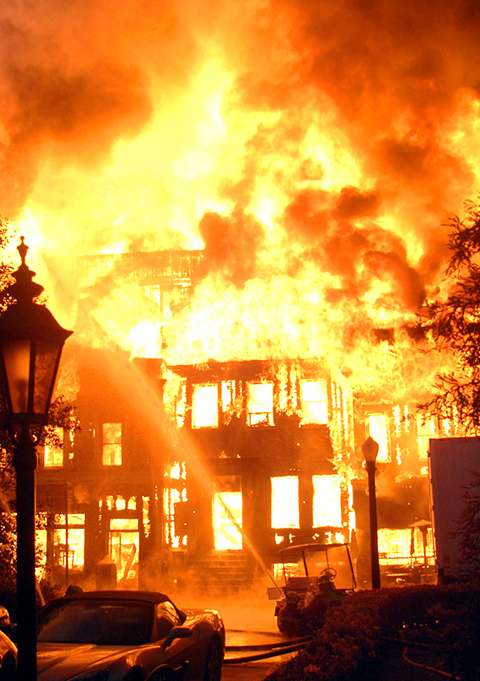 A firefighter works to extinguish the fire that engulfed a set at Universal Studios in Los Angeles, California, on Sunday.
PHOTO: AP
"We have duplicates of everything," said Ron Meyer, NBC Universal president and chief operating officer. "Nothing is lost forever."
The blaze broke out on a sound stage featuring New York brownstone facades around 4:30am on Sunday at the 162-hectare property, Los Angeles County Fire Chief Michael Freeman said. The fire was contained to the lot but burned for more than 12 hours before the final flames were extinguished.
The cause of the fire is under investigation. Damage was expected to be in the millions of dollars.
The iconic courthouse square from Back to the Future was destroyed, and the famous clock tower that enabled Michael J. Fox's character to travel through time was damaged, fire officials said.
Two mock New York and New England streets used both for movie-making and as tourist displays were a total loss, Los Angeles County Fire Inspector Darryl Jacobs said.
An exhibit housing a mechanically animated King Kong that bellows at visitors on a tram also was destroyed.
All three sites were either damaged or destroyed during another fire at Universal Studios in November 1990. That fire caused US$25 million in damage and was started by a security guard who was sentenced to four years in prison after pleading guilty to arson.
Hundreds of visitors who had waited for hours outside the park gates were turned away after officials decided not to open the area.
On a typical weekend day, about 25,000 people visit Universal Studios. An NBC Universal statement said the park was to reopen yesterday morning.
Universal CityWalk, a shopping promenade, was also closed. The MTV Movie Awards, broadcasting live on Sunday night from the adjacent Gibson Amphitheater, went on as planned.
The fire broke out along New York Street, where firefighting helicopters swept in for drops and cranes dumped water on the flames. A thick column of smoke rose thousands of meters into the air and could be seen for kilometers.
"It looked like a disaster film," said Los Angeles City Councilman Tom LaBonge.
Comments will be moderated. Keep comments relevant to the article. Remarks containing abusive and obscene language, personal attacks of any kind or promotion will be removed and the user banned. Final decision will be at the discretion of the Taipei Times.