Incest dad tried to 'protect' daughter
AUSTRIAN HORROR Josef Fritzl's lawyer provided his client's story to a weekly magazine, while residents of Amstetten showed their support for Fritzl's victims
Austrian incest father Josef Fritzl, who imprisoned his daughter for 24 years and made her bear seven children, said he locked her up to protect her from outside vices, in comments published yesterday.
Fritzl, 73, said he had grown up under Nazi rule which had an influence on him but he denied abusing daughter Elisabeth from the age of 11 as she has told police.
"She did not obey any rules, she hung around in dodgy bars all night, drank, smoked," Fritzl said of his daughter, who last week emerged from the underground bunker where she was kept with three of her children.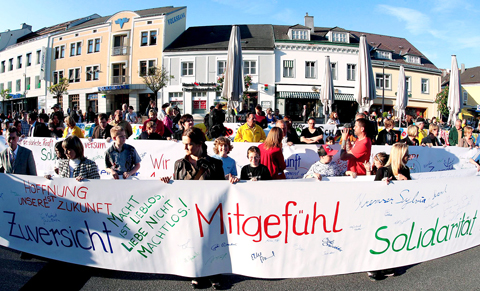 Residents of Amstetten, Austria, rally to demonstrate compassion for the victims of incest father Josef Fritzl on Wednesday.
PHOTO: EPA
"That's why I had to provide, I had to create a place, in which I could keep Elisabeth away from the outside world, by force if I had to," he said in comments released by his lawyer to the weekly magazine News.
"I grew up under the Nazis, drills and discipline meant a lot at the time. I probably adopted some of this, unconsciously of course. But I'm no monster," he said, adding that he had agonized over whether to free her.
"My situation became crazier with every week that I held my daughter captive. I considered again and again whether I should let her go or not," he told his lawyer, Rudolf Mayer.
Fritzl said he did not begin abusing his daughter until she was downstairs.
"I knew Elisabeth didn't want me to do what I did to her. I knew that I was hurting her. ... It was like an addiction ... In reality, I wanted children with her," he said.
He has admitted to holding Elisabeth captive from the age of 18 in a windowless cellar in his building and sexually abusing her, police said.
He started furnishing the cellar "around 1981 or 1982," several years before he locked up his daughter and explained how this went unnoticed by his family.
"The cellar in my building belonged to me and me alone. It was my kingdom, that only I had access to. Everyone who lived there knew it," he said. "Nobody would have dared to enter my kingdom or ask me what I was doing."
Fritzl also maintained that he always set a timer on the reinforced-concrete and electronically-coded doors to the cellar, so that they would open automatically if he did not reappear after a given time, a claim that is still being examined by experts.
The abuse became an addiction, Fritzl told his lawyer, who has said his client may plead diminished responsibility.
"The truth was, I wanted children with Elisabeth," he told the lawyer. "I was happy about the kids. It was nice for me to also have a real family in the cellar, with a wife and a couple of children."
He described the dungeon as a typical household.
"I watched action films with them [the children] on the VCR while Elisabeth cooked our favorite dishes. Then we all sat down at the kitchen table and ate together."
Meanwhile, Amstetten is looking for a way to back to normality.
As the sun set Wednesday on the main square, more than 500 Amstetten residents, tired of the international notoriety Austria's horror incest case has given it, gathered to show solidarity with the victims and press for a return to normality.
Schoolchildren unrolled a dozen banners with messages to Elisabeth Fritzl and the children she bore in the cellar.
"Wishing you strength on your path through life", "We're with you", "It was hell for you, now we wish you lots of sunlight," said some of the large white banners being held up by residents of all ages.
Comments will be moderated. Keep comments relevant to the article. Remarks containing abusive and obscene language, personal attacks of any kind or promotion will be removed and the user banned. Final decision will be at the discretion of the Taipei Times.