Rice calls for end to Gaza violence
US Secretary of State Condoleezza Rice said yesterday that Hamas rocket attacks against Israel "need to stop," demanding an end to the escalating violence that has rocked the Gaza Strip and set back US efforts to promote a Middle East peace deal.
Her comments came after she met for an hour with Israeli Prime Minister Ehud Olmert during a visit to Japan.
"I am concerned about the humanitarian conditions there and innocent people in Gaza who are being hurt," Rice told reporters following her meeting with Olmert.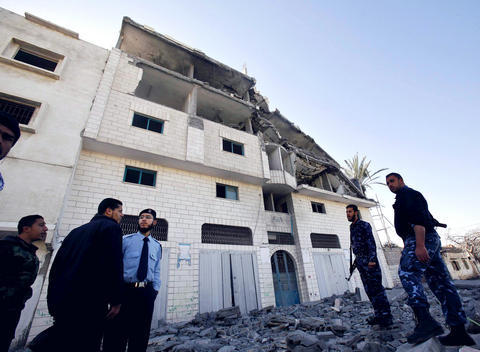 Hamas police stand in front of the destroyed Hamas-run Interior Ministry in Gaza yesterday after it was bombed by Israeli military aircraft.
PHOTO: REUTERS
"We have to remember that the Hamas activities there are responsible for what has happened in Gaza -- the illegal coup that they led against the legitimate institutions of the Palestinian Authority," she said. "It is very clear where this started."
Rice is planning to visit the region next week to meet with Palestinian and Israeli leaders to discuss the push to negotiate a peace accord, which could lead to a Palestinian state one day.
DEATH TOLL
Israel killed three Palestinian gunmen in air strikes in Gaza Strip yesterday, Palestinian militants and hospital officials said.
It brought to 14 the number of Palestinians killed in Gaza by Israeli forces since a Hamas cross-border rocket attack killed an Israeli civilian on Wednesday, the first such death in the Jewish state in nine months.
The militants and hospital officials said those killed yesterday's air strikes were a fighter from the Islamist Hamas movement and two from the Popular Resistance Committees (PRC) armed group.
An Israeli military spokeswoman said the air force had mounted an attack on Palestinian gunmen.
PROBE INTO DEATHS
Meanwhile, a prominent Israeli human rights group on Wednesday criticized a military probe that decided not to press charges in an errant artillery attack that killed 21 Palestinian civilians in the Gaza Strip in 2006.
The army announced late on Tuesday that it was closing the matter after its investigation determined the deaths were the result of a "rare and severe" technical malfunction.
In a statement, the human rights group B'Tselem questioned whether the inquiry met proper legal standards: "an investigation which is independent, effective, open to review and timely."
The group also called on the army to take measures that would prevent similar incidents in the future and urged it to compensate relatives of the dead.
The shelling was part of a large-scale Israeli ground operation in Gaza against rocket squads and the civilian deaths provoked the wrath of international groups. Since then, Israel has rarely used artillery against Gaza.
Comments will be moderated. Keep comments relevant to the article. Remarks containing abusive and obscene language, personal attacks of any kind or promotion will be removed and the user banned. Final decision will be at the discretion of the Taipei Times.