World News Quick Take
■ AUSTRALIA
Gnomes stuffed with snakes
Customs officials have discovered more than a dozen snakes and lizards stuffed inside garden gnomes and similar pottery figures during a recent international mail check, they said yesterday. Two snakes and three lizards were found wriggling inside the ceramic statues during a routine postal inspection in Sydney on June 10. The next day, officials at the same facility found another package filled with five snakes and five lizards stuffed inside pottery. Both packages had been sent from Britain. It is illegal to bring live reptiles into the country without a license. The reptiles were euthanized because of quarantine laws.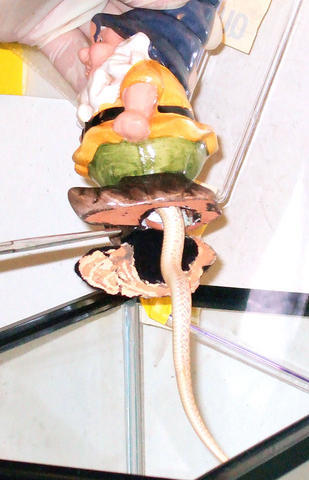 PHOTO: AP/AUSTRALIAN CUSTOMS SERVICE
■ CHINA
Beijing cases of HFM rising
Beijing has reported 1,092 cases of children infected with hand, foot and mouth (HFM) disease since the beginning of the year, a sharp increase over previous months, Xinhua news agency reported yesterday. Most of the infections involved children under the age of five, the Beijing Municipal Health Bureau said. Xinhua said there were no reports of critical cases of the disease. It said Beijing reported only 186 cases during the January-May period last year.
■ JAPAN
Bathhouse blast kills two
Two women were killed and at least three other people injured in an explosion in a women-only bathhouse in a Tokyo residential area yesterday afternoon, police officials said. About 150 rescuers used search dogs to scan the debris for other possible victims, fire official Junko Asasaka said. One person was rescued later in the day, but their condition was unknown. Police said the blast was believed to have been caused by the explosion of a boiler at the bathhouse.
■ PHILIPPINES
Police find baby, not bomb
Manila police, jittery over recent bus bombings, were called in to check a bag that was left on a bus on Monday night -- only to find a crying month-old baby boy stuffed inside, Radio DZBB reported yesterday. The bag was stashed under a seat and was opened barely enough for the baby to breathe. Police handed the baby over to social welfare authorities.
■ ITALY
Prisoner can't procreate
Authorities in Rome have denied a request by a Mafia boss to allow him to artificially inseminate his wife on the grounds he would not be able to care for his offspring because he is serving a life sentence, prison officials said on Monday. Salvino Madonia received the prison term for the 1991 murder of a Palermo businessman, Libero Grassi, who had defied Cosa Nostra by refusing to pay "protection" money. Penitentiary officials ruled recently that because Madonia was in prison for life he would not be able to "offer guarantees of caring for the child," which is a requirement of a 2004 Italian law which tightened criteria for artificial procreation.
■ GREECE
Sunken cruise ship fined
Authorities on Monday fined the owners, operator and captain of a sunken cruise ship a total of 1.17 million euros (US$1.57 million) for polluting the Aegean Sea. The Sea Diamond cruise ship has leaked an estimated 300 tonnes of fuel into the sea since sinking off a holiday island two months ago. Nearly 1,600 people were safely evacuated after the Cypriot-owned ship hit rocks off Santorini in the Aegean Sea on April 5, but two French tourists are still missing and presumed drowned. The ship's owners, Louis Group, operators Louis Cruise Lines and Greek captain Yiannis Marinos were fined for polluting the sea and the coast near the shipwreck and failing to submit a final action plan to pump the remaining fuel from the hulk, the Merchant Marine Ministry said.
■ GERMANY
Bus accident kills 13
A bus carrying a group of senior citizens was hit by a truck in eastern Germany on Monday and plunged down an embankment, killing 13 people, authorities said. Police spokesman Ralf Moritz said 31 other people were injured, many of them seriously, in the accident on the A14 highway between Halle and Magdeburg. The bus, carrying 48 senior citizens from Hopsten, came off the road at about 1:45pm. Moritz said the accident happened when a truck ran into the bus at the site of a previous accident, causing the bus driver to lose control of its steering.
■ UNITED KINGDOM
Monet sells for ?18 million
A view of the River Thames painted by Claude Monet sold for ?17.94 million (US$35.6 million) at auction on Monday, kicking off a week of big-budget sales on the London art market. Waterloo Bridge, Temps Couvert was bought by an anonymous telephone bidder during a sale at Christie's auction house. The price -- more than double the work's pre-sale estimate -- is the second-highest ever for a Monet at auction. The record of almost ?20 million was set at Sotheby's in 1998.
■ LATVIA
Stop sex tourism campaign
Riga risks becoming a "Baltic Bangkok" and girls need to be steered away from one night stands with tourists, organizers of a media campaign to stop sex tourism said on Monday. Riga has become a popular destination for groups of men on stag parties, leading to a boom for pubs, clubs and strip bars. "Riga is at risk of becoming a `Baltic Bangkok' and I'm starting to worry about the image of my country abroad," said Martins Kozlovskis, creative director of Alfa Centrs, which is leading a "Stop Sex Terrorism" campaign. The campaign is aimed at local girls, showing them the dangers of getting involved with tourists.
■ UNITED STATES
Totem pole kills scout
A 4m totem pole fell over and struck a boy on the first day of Boy Scout camp, killing the nine-year-old, Pennsylvania state police said on Monday. Tyler Shope of Shermans Dale, Pennsylvania, died of head and chest injuries on Sunday afternoon, Perry County Coroner Michael Shalonis said. The boy's parents were nearby when the pole fell around 3:15pm and his father helped lift it off him, Shalonis said. No one else was injured.
■ UNITED STATES
Murderer convicted again
A man already on death row in California for one murder was convicted on Monday for two decades-old Virginia slayings, exposing him to possible execution there as well. The Virginia jury that convicted Alfredo Prieto, 41, in the 1988 killings of college sweethearts Rachael Raver and Warren Fulton will now hear evidence on whether Prieto is eligible for execution. The panel deliberated for about five hours over two days before reaching its verdict. Prieto has been on death row in California since 1991 for raping and murdering a 15-year-old girl.
■ UNITED STATES
Woman jailed over sex pact
A mother accused of arranging a sex pact to allow her boyfriend to have sex with her 15-year-old daughter while the woman recuperated from surgery was sentenced on Monday to 12 to 22 years in prison. The woman, 41, pleaded no contest in April to three counts of third-degree criminal sexual conduct. A no-contest plea is not an admission of guilt, but judges treat it as a guilty plea at sentencing. The woman was not identified to protect her daughter's identity. Authorities said the woman agreed to the arrangement because she feared losing her boyfriend, Michael Fitzgibbon, while recuperating from the operation on her abdomen. Fitzgibbon, 37, was sentenced in March to up to 15 years in jail.
■ UNITED STATES
Medication for frostbite
A medication administered to heart attack or stroke victims to bust blood clots may help treat severe frostbite and reduce the risk of amputation, a study published on Monday said. While treatment for other areas of critical care has grown significantly in the last 25 years, it has largely remained the same for frostbite, the authors of the article published in the journal Archives of Surgery wrote. "Today, traditional therapy consists of tissue rewarming, prolonged watchful waiting and often delayed amputation," they wrote. "While many other areas of burns, trauma, and critical care have advanced significantly in their treatment modalities, the saying `frostbite in January, amputate in July' is still relevant today."
■ UNITED STATES
Boy kills deputy
A 15-year-old boy fatally shot one sheriff's deputy and seriously wounded another outside his home 16km west of Louisville, Kentucky. Deputy Frank Denzinger died hours after the shooting, Floyd County Sheriff Darrell Mills said early yesterday. Deputy Joel White was hospitalized in critical condition, he said. Officers searched the boy's neighborhood and a nearby wooded area, state police Sergeant Jerry Goodin said. Deputies went to the home around 6:30pm on Monday in a rural subdivision after a report of a confrontation between the boy and his mother, Lieutenant Frank Loop said. The boy's mother was not injured.
Comments will be moderated. Keep comments relevant to the article. Remarks containing abusive and obscene language, personal attacks of any kind or promotion will be removed and the user banned. Final decision will be at the discretion of the Taipei Times.