Socialists block Sarkozy from expected landslide
NO `BLUE WAVE' The French president's UMP became the first ruling party to retain control of the National Assembly since 1978 but it won 45 fewer seats than it had before
French President Nicolas Sarkozy's right-wing party won a solid majority to launch his program of reforms in legislative elections on Sunday, but failed to secure a widely predicted landslide.
His Union for a Popular Movement (UMP) won 314 seats in the 577-member National Assembly, 45 fewer than in the outgoing parliament, according to final official results. Another 22 seats went to the UMP's centrist allies.
Sarkozy's party had been expected to score a "blue wave" landslide after his stunning presidential election win over Socialist Segolene Royal last month. But the Socialist Party made a surprise comeback, jumping from 149 to 185 seats.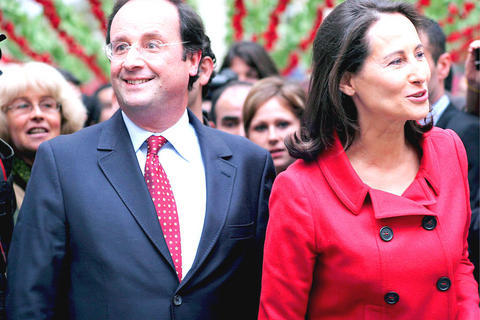 Former French Socialist presidential candidate Segolene Royal is flanked by her partner and general secretary of the Socialist Party Francois Hollande in Paris on Jan. 22. Royal announced on Sunday that the couple had split and she hinted that she would challenge him for the party leadership.
PHOTO: EPA
Turnout for the decisive second round vote was 59.99 percent, far short of the near 85-percent turnout in the presidential vote.
In an embarrassing blow to Sarkozy, former prime minister Alain Juppe failed to win a seat in his Bordeaux stronghold and resigned as environment superminister and government No. 2.
Sarkozy, 52, had brought the 61-year-old Juppe back from political exile after his conviction in a party finance scandal and given him one of the most prominent portfolios in his right-wing government.
But Economy Minister Jean-Louis Borloo said the government had scored a "historic success" in becoming the first ruling party since 1978 to retain control of the National Assembly.
Prime Minister Francois Fillon said France had "made a clear and coherent choice" by giving Sarkozy "a majority to act."
"You voted for change, well that is going to be a reality. We will challenge the habits and taboos that hold our country back," Fillon said.
Socialist leader Francois Hollande highlighted gains made by his party, which had headed into the parliamentary vote demoralized by Royal's defeat and expecting a crushing right-wing victory.
"The blue wave that was predicted to come crashing down didn't happen," Hollande said, adding that the result would spell more "diversity and pluralism."
He said the result was the sign of voter unease with "unjust measures" planned by the government, including a possible a hike in value-added tax rates to fund healthcare costs.
The conservative Le Figaro called the results of Sunday's vote the "Yes, But of the French" to Sarkozy's reforms in the headline to its story.
"What happened yesterday was certainly not a defeat for Nicolas Sarkozy because Nicolas Sarkozy has a clear majority, but it certainly is a warning," the paper wrote.
The left-wing Liberation was more dramatic about the Socialist gains. "The Right-Wing Takes a Left Hook," screamed the daily's headline.
Other left-wing parties picked up 41 seats between them, with 15 going to the Communist Party and four to the Green Party. The nationalist Movement for France took one seat, but the main far-right National Front won no seats.
Meanwhile, even as they welcomed the better-than-expected showing, Socialists were jolted by the news that Royal and Hollande, her partner of nearly 30 years and father of her four children, had separated.
Royal was angry the media had made her decision public shortly after polls closed on Sunday.
"I didn't want to announce it tonight in the middle of the legislative election," Royal said, adding she would issue a joint statement with Hollande yesterday.
Royal had accused Hollande of having an affair in interviews for a book to be released this week and asked that he no longer be described as her partner, though she did not specify when the break-up happened.
Comments will be moderated. Keep comments relevant to the article. Remarks containing abusive and obscene language, personal attacks of any kind or promotion will be removed and the user banned. Final decision will be at the discretion of the Taipei Times.