EU to resume aid to Palestinians
OLMERT'S OFFER The Israeli leader voiced willingness to meet with the Palestinian president and said his country would be a `genuine partner' of the new government
The EU said yesterday that it would resume direct aid to the new Palestinian government of Prime Minister Salam Fayyad and it urged Israel to restore the transfer of tax revenue to his new administration.
The move came one day after Israeli Prime Minister Ehud Olmert said his country would be a "genuine partner" of a new Palestinian government and promised to consider releasing hundreds of millions of dollars in frozen tax funds.
Reacting to a dramatic new situation in the Middle East, EU foreign policy chief Javier Solana said the 27-nation bloc will resume direct aid that was frozen more than a year ago after the stridently anti-Israel Hamas movement came to power.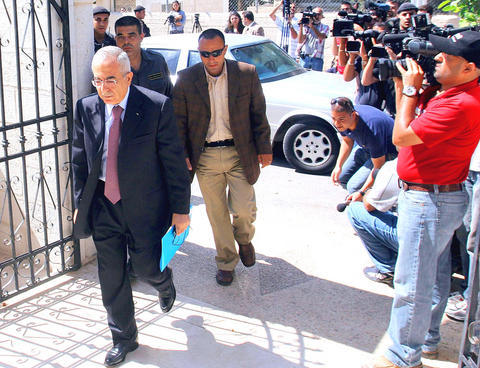 Newly appointed Palestinian Prime Minister Salam Fayyad arrives for the first Cabinet meeting in Ramallah yesterday.
PHOTO: EPA
Solana said the EU planned to deliver aid for Palestinians in the Gaza Strip through the UN or an existing temporary program that bypasses the Hamas leadership there.
"In order to help the Palestinian people in Gaza, we will need some mechanism that cannot be a direct support" given that Hamas is sworn to destroy the Jewish state, Solana said on arrival at an EU foreign ministers meeting in Luxembourg.
German Foreign Minister Frank-Walter Steinmeier, the meeting's chairman, criticized Hamas for last week's violence in which the militant group's fighters seized control of the Gaza Strip, leaving the Palestinians physically divided and under rival leaderships.
"I think that it is mainly to Hamas that we have to look when we have to point the finger at some-one," Steinmeier said.
The EU foreign ministers were to meet yesterday with Israeli Foreign Minister Tzipi Livni.
The meeting was planned long before Friday's power grab by Hamas, which prompted Palestinian President Mahmoud Abbas to dissolve the Hamas-Fatah unity government and establish a new administration to govern the West Bank.
Olmert said on Sunday that he would be willing to meet again with Abbas to continue talks on peace and other issues that had been disrupted by the recent outbreak of Palestinian infighting.
"I think that despite what has happened in the last two days there is ... a genuine opportunity that the moderate forces headed by President Abbas will be able to form a solid government administered by the Palestinians," Olmert said in a speech to a conference of presidents of major Jewish organizations in New York.
He said Israel could ease travel restrictions on the West Bank and release Palestinian tax receipts frozen after the Hamas-led government took power last year.
Olmert met with UN Secretary General Ban Ki-moon on Sunday, and was expected to head to Washington yesterday to speak to top administration officials. He will meet with US President George W. Bush today.
Hamas' bloody takeover of the Gaza Strip looks certain to dominate talks in Washington.
In other developments, the Israeli company that provides fuel to the Gaza Strip said it restored normal supplies yesterday after Palestinians protested cutbacks to the Hamas-controlled territory.
"Beginning today, we have resumed the regular supply of fuel to the Gaza Strip," said Dor Alon, a private Israeli fuel company that supplies Gaza, reversing a decision announced on Sunday to provide fuel only to Gaza's power stations.
A representative of Palestinian gasoline companies had warned on Sunday that the territory could run out of fuel within two days if Israel did not restore supplies.
Comments will be moderated. Keep comments relevant to the article. Remarks containing abusive and obscene language, personal attacks of any kind or promotion will be removed and the user banned. Final decision will be at the discretion of the Taipei Times.