Spate of subpoenas takes aim at US administration
GONE FISHING? As the House Oversight Committee approved the subpoenas, Republicans accused the Democrats of `fishing expeditions' and `witch hunts'
In a vivid display of their new power, Democrats across Capitol Hill on Wednesday approved a flurry of subpoenas to fuel a series of investigations of the administration of US President George W. Bush.
The House Committee on Oversight and Government Reform issued three subpoenas in quick order.
One was to Secretary of State Condoleezza Rice to answer questions about the administration's prewar claims about Iraq's weapons programs and two were to the Republican National Committee and its chairman, Robert Duncan, to be questioned about whether the party's e-mail system was used by Bush officials to conceal some of their actions.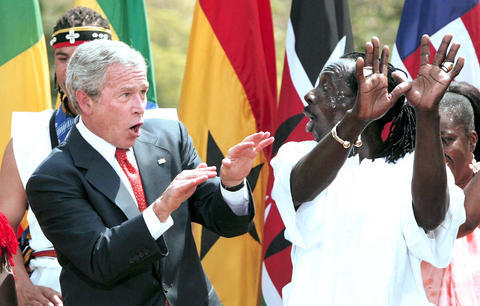 US President George W. Bush dances with the Kankouran West African Dance Company following a speech on Malaria Awareness Day on Wednesday at the White House in Washington.
PHOTO: EPA
The Senate Judiciary Committee authorized but did not issue a subpoena for Sara Taylor, the deputy to Karl Rove, Bush's chief political adviser. The committee wants to question Taylor about the White House role in the dismissal of eight US attorneys.
In what could be a significant development in the investigation of those dismissals, the House Judiciary Committee moved toward granting a form of immunity from prosecution to Monica Goodling, who was a senior aide to Attorney General Alberto Gonzales until her recent resignation.
Goodling, who was deeply involved in the dismissals, has invoked her constitutional rights under the Fifth Amendment to decline to give testimony that might be self-incriminating.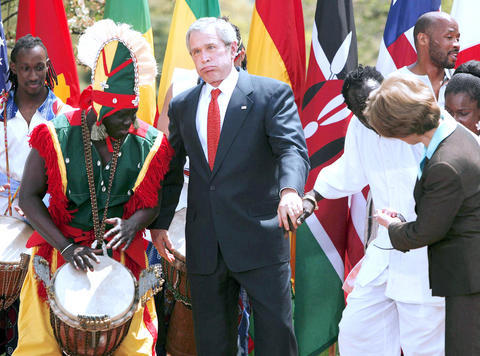 PHOTO: EPA
But a grant of immunity could allow the committee to force Goodling to answer questions about just how involved the White House, and particularly its political office, was in choosing which prosecutors should be dismissed and whether the decisions were based primarily on a desire to help Republican causes or on performance shortcomings of the prosecutors, as Justice Department officials have said.
As the House Oversight Committee voted along party lines to approve the subpoenas, the atmosphere in the hearing room was rich with themes of retribution and settling scores.
Republicans said the Democrats were using their new majority to support "fishing expeditions" and "witch hunts" solely to embarrass Bush.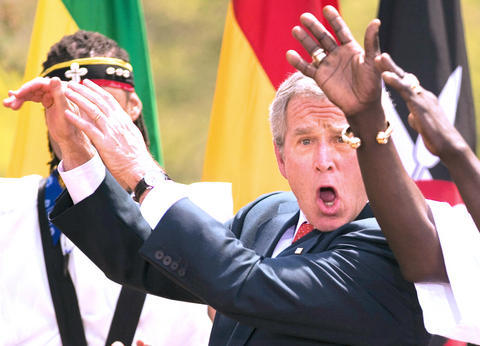 PHOTO: AFP
Representative Henry Waxman of California, the recently installed committee chairman, savored his new status as he turned aside Republican efforts to quash the subpoenas or limit them.
Reflecting on the years he spent in minority status, Waxman said that when Republicans controlled the oversight committee during Bill Clinton's presidency, more than 1,000 subpoenas were issued to the executive branch.
"When President Bush took office, I saw the other extreme," he said.
The Republicans who controlled the committee issued only four subpoenas in six years to executive agencies, Waxman said, and none directly to the Bush White House.
Congress' authority includes conducting oversight of the executive branch, which is separate from its better-known function of enacting legislation.
Comments will be moderated. Keep comments relevant to the article. Remarks containing abusive and obscene language, personal attacks of any kind or promotion will be removed and the user banned. Final decision will be at the discretion of the Taipei Times.