Rhino poachers hunted in India
CRACKDOWN Authorities in the remote northeastern state of Assam took action after the killing of six rare one-horned rhinoceroses at the Kaziranga National Park
Authorities in India's remote northeastern Assam state launched a major crackdown on rhinoceroses poachers yesterday, rushing in armed paramilitary soldiers to a sprawling game reserve, officials said.
The government action follows the killing of six rare one-horned rhinoceroses at the Kaziranga National Park, 230km east of the state capital Gauhati, since January.
"We are bent on checking further poaching of rhinos and have therefore issued shoot orders to our rangers who can fire upon illegal trespassers inside Kaziranga," Assam's Environment and Forest Minister Rockybul Hussain said.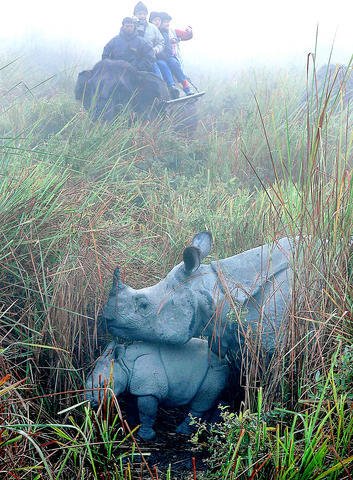 A group of tourists seated on an elephant watch a rhino along with her baby in Kaziranga National Park some 220kms east of Guwahati, India, on Jan. 27.
PHOTO: AFP
Hussain said armed paramilitary reinforcements have also been sent to the 430km2 reserve, home to 1,855 one-horned rhinos, according to the last census taken in the reserve in March last year, out of an estimated global population of some 3,000.
Two of the animals were killed in the past two weeks. The spurt in poaching has surprised authorities and led them to believe that poachers, possibly backed by global animal trade syndicates, may be involved. Only five rhinos were killed last year and seven in 2005.
"It is clear funds are flowing to attract shooters to kill rhinos for their horns and we can't rule out poaching syndicates within India and from abroad backing this fresh campaign at targeting rhinos in Kaziranga," M.C. Malakar, Assam's chief wildlife warden had said last week.
Rhino horns are in great demand globally, particularly in Southeast Asia, for their alleged efficacy in producing aphrodisiacs and traditional medicines. Some people also use them to make decorative dagger handles.
Conservation efforts have led to a rise in the rhino population and they are now found even on the periphery of the park, making them easier targets for poachers, Malakar said.
The Assam Wildlife Crime Prevention Unit has suggested improvements in the infrastructure of the park and acquiring new speed boats for guards to quickly navigate the streams that crisscross the reserve.
Comments will be moderated. Keep comments relevant to the article. Remarks containing abusive and obscene language, personal attacks of any kind or promotion will be removed and the user banned. Final decision will be at the discretion of the Taipei Times.