Israeli forces kill two Palestinians
LATEST STEPS The Israeli military claimed the operation was part of its efforts to stamp out Palestinian 'militants,' but Palestinian officials said it risked breaking a ceasefire
Israeli Defense Forces (IDF) troops killed two Palestinians, including a suspected top bombmaker, during an arrest raid early yesterday, Palestinian officials said, raising the death toll to eight in a two-day surge of fighting.
The al-Aqsa Martyrs' Brigades, a militant group linked to Palestinian President Mahmoud Abbas' Fatah party, said the men were killed after Israeli troops surrounded a building where they were hiding and ordered people out. Most occupants came out, but the two militants remained holed up inside. An exchange of fire broke out and the two men were killed, the group said.
The group said the dead included Amin Lubadi, a suspected bombmaker who had been wanted by the Israelis for more than three years.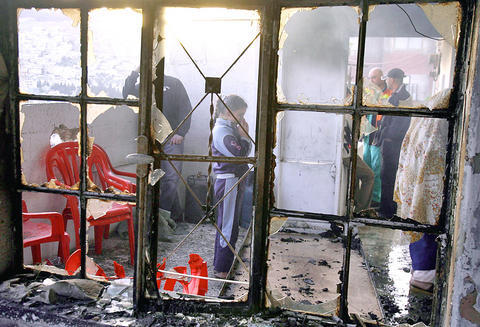 Relatives check the house where two Palestinian members of al-Aqsa Martyrs Brigades were killed by Israeli fire yesterday in Nablus, West Bank.
PHOTO: AFP
Palestinian medical officials confirmed the deaths of two men.
Witnesses said the sounds of gunfire and explosions could be heard in Nablus as the army pushed forward with its latest crackdown.
IDF was looking into the report.
On Saturday, five people were killed during Israeli arrest raids in the northern West Bank. The area is known as a stronghold of Palestinian militants. The dead included a 17-year-old girl who was shot by Israeli gunfire as she looked out the window of her home, officials said.
In other violence on Saturday, a 37-year-old man was killed in an Israeli airstrike in the northern Gaza Strip. The army said the airstrike was in response to a rocket attack carried out by Palestinian militants. One rocket hit a house in a southern Israeli town, though there were no injuries from the attack.
Israeli officials defended the operations as the latest steps in their ongoing war against Palestinian militants. But Palestinian officials said the bloodshed only hurt efforts to expand a ceasefire in Gaza to the West Bank.
Israel and Palestinian militants have been observing a ceasefire in the Gaza Strip since last November. The truce has largely held, though Gaza militants have periodically fired rockets into Israel.
In talks with Israeli Prime Minister Ehud Olmert, Abbas has raised the possibility of expanding the ceasefire to the West Bank, where the army frequently conducts raids searching for wanted militants.
Israel sealed the West Bank and Gaza Strip early yesterday for Memorial Day and Independence Day, restricting the movement of Palestinians into Israel.
Comments will be moderated. Keep comments relevant to the article. Remarks containing abusive and obscene language, personal attacks of any kind or promotion will be removed and the user banned. Final decision will be at the discretion of the Taipei Times.