Pakistanis protest judge sacking
LEGAL WRANGLE Opponents say the president suspended the judge illegally in a bid to weaken the judiciary and make it easier to stay on as army chief past this year
More than 3,000 flag-waving protesters defied a massive security crackdown in Pakistan yesterday to hold fresh rallies against the dismissal of the country's top judge by President Pervez Musharraf.
Lawyers and opposition activists urged military ruler Musharraf to quit as they massed outside the Supreme Court in Islamabad during a fourth hearing into misconduct charges against Chief Justice Iftikhar Muhammad Chaudhry.
Musharraf sacked independent-minded Chaudhry on March 9, sparking nationwide demonstrations and a political crisis that is now spilling into its second month.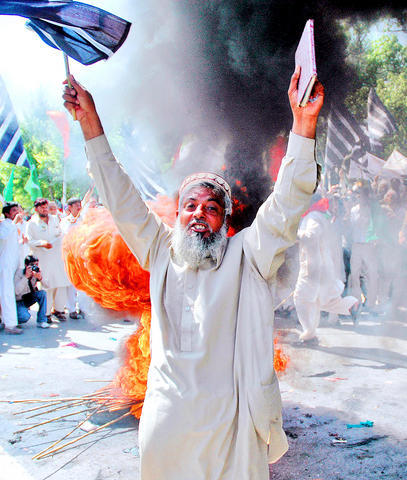 An activist chants slogans in front of burning tires during an anti-Musharraf demonstration in front of the Supreme Court building in Islamabad yesterday.
PHOTO: AFP
"Musharraf is America's pet dog" and "Go Musharraf, go," chanted the protesters, as hundreds of paramilitary troops and baton-wielding riot police kept them outside the imposing marble court building.
Lawyers wearing smart black suits and crisp white shirts waved black flags and mobbed Chaudhry's car as he arrived at the court. A couple of lawyers climbed on top of the vehicle.
The suspended chief justice has denied charges laid by Musharraf including that he abused his position to get his son a top police job and to amass a fleet of cars.
Hardline Islamists and supporters of former premiers Benazir Bhutto and Nawaz Sharif held separate but simultaneous protests under a blazing sun, as well as workers from the party of cricket hero-turned-politician Imran Khan.
Some demonstrators burned tires, sending a plume of black smoke above the court.
Police set up body scanners to check all protesters entering the downtown area where the protests were held, and erected roadblocks to check every car coming into the capital.
They also arrested 200 people on Thursday in Islamabad, Rawalpindi and other towns "to prevent potential troublemakers from coming onto the streets and creating law and order problems," a government official said.
"We would not like any damage to be caused to public property and want the protesters to be peaceful," Interior Minister Aftab Sherpao said.
A spokesman for Jamaat-e-Islami, the country's main fundamentalist political party, said more than 50 of its workers had been arrested in the police raids.
Bhutto's Pakistan People's Party said dozens of its activists were detained.
Opponents say Musharraf suspended Chaudhry illegally in a bid to weaken the judiciary and make it easier to stay on as army chief past this year, when the Constitution says he is meant to give up the position.
Musharraf is also expected to seek re-election for another five-year presidential term ahead of national polls due late this year or early next -- a move that could also spark legal challenges.
Musharraf insists he acted constitutionally to stem corruption.
Comments will be moderated. Keep comments relevant to the article. Remarks containing abusive and obscene language, personal attacks of any kind or promotion will be removed and the user banned. Final decision will be at the discretion of the Taipei Times.