Chavez coup supporters facing prosecution
REBELLION ANNIVERSARY Rebel officers had arrested Venezuelan President Hugo Chavez after street protests, but he was freed and back in power less than 48 hours later
Five years after dissident generals ousted President Hugo Chavez in an ill-fated rebellion, Venezuela is again pushing to prosecute those who supported the two-day coup, including the exiled businessman who briefly assumed the nation's presidency.
Prosecutors formally accused four National Guard troops on Wednesday of killing Johnny Obdulio Palencia near the presidential palace during the April 11, 2002, coup, and issued warrants for their arrest. It was not immediately clear whether they had been detained.
The warrants came two days after a judge barred 27 Chavez opponents from leaving the country while prosecutors review allegations that they supported the 2002 coup by signing a decree in which the interim president, Pedro Carmona, tossed out the Constitution and dissolved congress.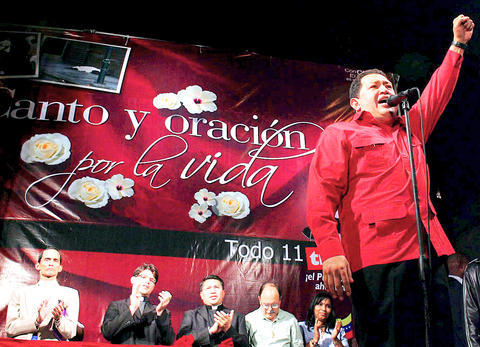 Venezuelan President Hugo Chavez, right, delivers a speech in Caracas on Wednesday, the fifth anniversary of a failed coup in 2002.
PHOTO: EPA
Also on Monday, the Supreme Court approved a petition letting prosecutors request the arrest and extradition of Carmona from Colombia, where he was granted asylum after the coup.
Yesterday was the anniversary of Chavez's ouster, and government officials today are expected to hold ceremonies marking his return to power less than 48 hours later.
Rebel officers arrested Chavez early on April 12, 2002, after 19 people were killed and dozens wounded by unidentified gunmen during opposition-led street protests. No suspects have been convicted of the slayings, though eight former police officers have been jailed on charges linked to two killings.
The 27 people prohibited from leaving Venezuela for 180 days include Guaicaipuro Lameda, ex-president of the state oil company; Maria Corina Machado, a director of the US-backed elections watchdog group Sumate; former Falcon state governor Jose Curiel; and businessman Albis Munoz -- all of whom deny any wrongdoing.
Various Chavez opponents have acknowledged attending Carmona's swearing-in when the decree was presented, but say they never signed any documents supporting it. Many say they signed what they thought were blank attendance sheets.
Carmona's interim government was swiftly recognized by the US, but the next day Chavez supporters took to the streets demanding his return and loyal military generals dispatched soldiers to free him from his captors on a nearby island.
National Assembly President Cilia Flores, a close Chavez ally, applauded the push to resume trials, saying it would help "eradicate existing impunity." Flores said more than 30 suspects have been accused of coup-related crimes and 11, including the eight former officers, are in custody.
Bonny Simonovis, the wife of former Caracas police chief Ivan Simonovis, told Union Radio that authorities were violating his rights by placing him in solitary confinement.
"This is cruelty. It's not enough that they have destroyed our lives," said Simonovis, whose husband says he is innocent.
Comments will be moderated. Keep comments relevant to the article. Remarks containing abusive and obscene language, personal attacks of any kind or promotion will be removed and the user banned. Final decision will be at the discretion of the Taipei Times.