Israel launches probe into army use of human shields
Sameh Amira was fast asleep when he was jolted awake by pounding at the front door. Israeli troops were on a manhunt for wanted militants in the West Bank and decided to draft help.
The terror-stricken 24-year-old Palestinian soon found himself forced onto the front lines of Israel's shadowy war against militants, a human shield as he led heavily armed soldiers from house to house.
"I was afraid I would die," he said in a recent interview.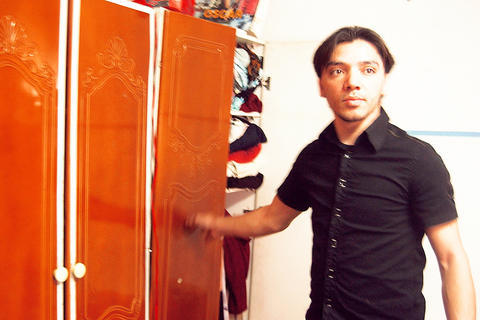 Palestinian Sameh Amira, 24, stands in his home in Nablus, West Bank, on Feb. 28.
PHOTO: AP
For several years, Palestinians had complained about the army's use of human shields, but proof was difficult to come by. Then in late February, Associated Press Television News captured footage of the incident involving Amira.
The video has prompted the army to launch a rare criminal investigation into whether its soldiers violated a landmark Israeli Supreme Court 2005 ruling barring the use of human shields. Others, including an 11-year-old girl, have been emboldened to come forward with similar accounts of being compelled to walk ahead of soldiers looking for militants.
International law, including the Geneva Conventions and Hague regulations, prohibits placing civilians in harm's way during military operations.
The army promises a vigorous investigation.
"Violations of the law or of rulings of the Israeli High Court of Justice are viewed with severity," said Noa Meir, a spokeswoman.
The case highlights one of the many human rights issues the army is dealing with as it enters its fifth decade of military occupation in the West Bank.
The army says operations like the raid in Nablus are needed to protect Israelis and Israel's security. But after six years of fighting in the latest intifada, the army's tactics have become increasingly tough on Palestinians not part of the conflict.
The army moved into Nablus -- a major West Bank city known as a militant stronghold -- on Feb. 24 in a broad sweep targeting militants and weapons labs.
Residents have given harrowing accounts as troops moved house to house in search of wanted men. The soldiers reached Jihan Dadoush's home in the poor Jasmine quarter of Nablus' Old city on Feb. 28.
Dadoush, 11, said she was watching the news with her family at about 8:30pm when there was a knock on the door. She said the troops questioned her father and older sister before turning to her.
"I was very afraid because the soldiers were screaming at me, so I told them about a house where young men sometimes go," she said, hesitating and moving about restlessly as she spoke.
About 15 minutes later, she said the troops returned and called her name. They ordered her to come with them, threatening to arrest her and ignoring her father's pleas to leave her alone, she said.
Jihan said the troops ordered her to show them the hideout.
``They made me walk in front of them. There were many soldiers behind me with their weapons and they frightened me,'' she said, bursting into tears.
Comments will be moderated. Keep comments relevant to the article. Remarks containing abusive and obscene language, personal attacks of any kind or promotion will be removed and the user banned. Final decision will be at the discretion of the Taipei Times.