Yushchenko's offer unlikely to end crisis
Ukrainian President Viktor Yushchenko is willing to freeze his order to dissolve parliament, a chief aide said on Wednesday, but it appeared unlikely the concession was enough to bring an end to the political crisis in this ex-Soviet republic.
The freeze would apparently allow parliament to continue working while preparations were made for early elections.
But Prime Minister Viktor Yanukovych, Yushchenko's arch-rival, remained defiant, telling 20,000 cheering supporters at a rally in central Kiev that if early parliamentary elections were held, an early presidential ballot must be held simultaneously.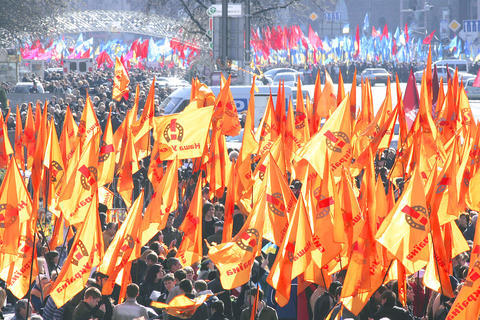 A general view of two squares, where supporters of Ukrainian President Viktor Yushchenko, foreground, and his rival Prime Minister Viktor Yanukovych, background, have gathered in Kiev on Wednesday.
PHOTO: AP
Last week, Yushchenko ordered the parliament to be dissolved and called early elections, accusing Yanukovych of trying to usurp power. Yanukovych and his majority in parliament have called the order unconstitutional, and taken the issue to the Constitutional Court.
The standoff has triggered the biggest political crisis since the 2004 Orange Revolution, and brought a return to the street protests and tent camps that became a hallmark of that mass action against election fraud.
Rival rallies on Wednesday in neighboring city squares attracted 15,000 to 20,000 flag-waving protesters each, and some minor scuffles broke out.
Both the West, with whom both Yushchenko and Yanukovych have said they were eager to build closer relations, and Russia, Ukraine's historical partner, have repeatedly appealed for calm.
The chief antagonists in the latest faceoff -- the president and the premier -- have spent hours in face-to-face talks but have not broken the deadlock. Both sides say they have offered compromises, but neither have revealed details.
Vitaliy Hayduk, secretary of Yushchenko's security council, said the president was willing to freeze his dissolution order, and push back elections. Yushchenko initially called for the vote to be held on May 27 -- 14 months after the last parliamentary elections.
"The president ... has sent a message that his decree can be halted," to allow all parties more time to prepare for early elections, Hayduk said.
Under such a freeze, the parliament apparently could continue working while a date for elections is negotiated. It remained unlikely, though, that Yanukovych would agree to early elections unless the Constitutional Court upholds Yushchenko's decree.
The court is to begin hearings next Tuesday. The court initially was to have started considering the legality of Yushchenko's decree on Wednesday, but postponed the start of the hearings after five of its 18 judges removed themselves, citing pressure from Yanukovych's camp.
The dispute between the premier and the president has been brewing since Yanukovych's party won the largest share of votes in last year's election. That election eventually led to Yanukovych regaining the premiership, which he lost after massive demonstrations in 2004 that helped propel Yushchenko into power.
Comments will be moderated. Keep comments relevant to the article. Remarks containing abusive and obscene language, personal attacks of any kind or promotion will be removed and the user banned. Final decision will be at the discretion of the Taipei Times.