Convicted vandal receives pardon from Thai king
Thai King Bhumibol Adulyadej has pardoned a Swiss man who was sentenced to 10 years in prison last month for vandalizing portraits of the monarch, prosecutors said yesterday.
"I have learned that he received a royal pardon a few days ago. Now he has been released but will be deported from Thailand," said Panu Kwanyuen, the provincial attorney general in the northern city of Chiang Mai.
Oliver Jufer, 57, had been sentenced to 10 years in prison on March 29 after pleading guilty to five counts of lese majeste -- the crime of offending the dignity of a sovereign.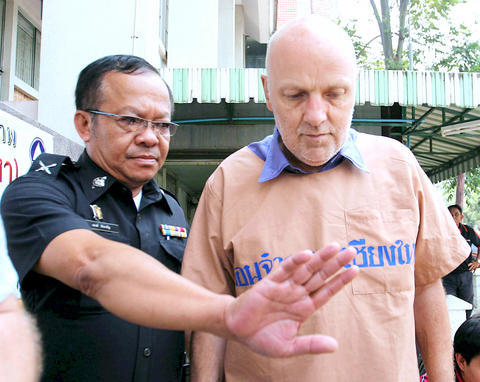 Swiss national Oliver Jufer, right, 57, is escorted by a police officer outside a court in Chiang Mai Province, northern Thailand, on March 29.
PHOTO: EPA
He was convicted of defacing several portraits of the king with spray paint during a drunken spree in Chiang Mai in December.
Jufer was released from prison and into the custody of immigration officials on Tuesday, prison authorities said.
Immigration officials in Chiang Mai said they were in the process of deporting him. Swiss embassy officials declined to comment.
Jufer is from Zurich but has lived mainly in Thailand for the last 10 years and has married a Thai woman, according to Thai authorities.
Security cameras videotaped him defacing the king's portraits on Dec. 5, which is the monarch's birthday and a time of national celebration.
Thailand has been swept up in royal fever since the king's 60th anniversary on the throne in June last year.
The palace also became more prominent in Thai political life with a military coup in September, which was conducted with the king's apparent blessing.
The generals who staged the coup have repeatedly said that one of the reasons for ousting elected prime minister Thaksin Shinawatra was because he had been "impolite" to the monarch.
But prosecutors last week dropped the lese majeste charges against Thaksin, although they chided him over the remarks.
The controversy over Jufer's case and Thailand's rigid enforcement of its lese majeste law also erupted on the Internet, after a user on the video-sharing site YouTube posted a clip mocking the king and taking aim at the law.
Thailand last week blocked the site because of the video, drawing condemnation from media rights watchdogs who accused the military-installed government of increasingly censoring political speech online.
The original clip has since been removed, but Thailand's decision to censor the Web site spurred YouTube users worldwide to create their own videos mocking the king.
Comments will be moderated. Keep comments relevant to the article. Remarks containing abusive and obscene language, personal attacks of any kind or promotion will be removed and the user banned. Final decision will be at the discretion of the Taipei Times.