Relief efforts start in Solomons
WARNINGS Aid workers warned that diarrhea, malaria and cholera may infect thousands in the wake of Monday's tsunami, which has already killed 34 islanders
Tsunami survivors and aid workers in the Solomon Islands complained yesterday that relief efforts were chaotic and slow as the disaster's scale became more clear, and the UN warned that thousands faced the threat of dangerous diseases.
Reports of diarrhea were becoming more widespread, and officials were worried about possible malaria and cholera outbreaks because of unsanitary conditions in makeshift high-ground camps where thousands fled on Monday's magnitude-8.1 earthquake and tsunami and were refusing to come down.
The UN put the death toll from Monday's disaster in western Solomon Islands as at least 34 -- higher than the Solomons' official tally of 28, though government officials say they expect more deaths to be confirmed.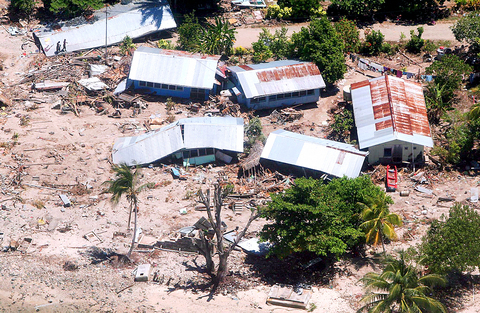 Houses destroyed by Monday's earthquake and tsunami are pictured in Gizo yesterday. The island and surrounding villages were badly hurt by the tidal wave.
PHOTO: EPA
The UN said it estimated 50,000 people were affected by the disaster -- 30,000 of them children who were "highly vulnerable" to diseases including malaria, which is endemic in the region. The government says 5,600 were left homeless. There has been no official tally of the missing.
Government officials conceded the aid effort was going more slowly than they wanted, but blamed the remoteness of the affected region and a shortage of supplies in the capital, Honiara, that could be shipped to the disaster zone.
Survivors picking through the rubble of shattered villages looking for food and supplies found more bodies yesterday, and grew increasingly frustrated that they were being left to fend for themselves, including burying their neighbors who were killed.
Military transport planes from New Zealand and Australia have flown in loaded with aid packages of tarps, water and food rations, and a police patrol boat has brought a shipment from Honiara.
"We are under-resourced, we need bigger vehicles," said disaster official Jonathan Taisia at the main Red Cross center in hard-hit Gizo town, as a chartered helicopter landed with the latest load of tarps and food.
Gizo's airport reopened yesterday, but Taisia said much of the aid coming into Gizo wasn't being distributed beyond depots because of vehicle shortages, and a lack of workers to load trucks or clear debris that had severed road links to outlying villages.
Drinking water is in extremely short supply in Gizo, as is food and medicine. Most aid was being delivered to Munda, on a nearby island, and a shortage of boats hampered efforts.
Most of the local fleet of canoes and other vessels was destroyed by tsunami waves that crashed ashore within minutes of the offshore quake Monday morning.
"We have a problem with water, and sanitation is a big issue that needs to be addressed urgently," said Allen Alepio, one of a team of six doctors and 15 nurses who rushed to Gizo on Wednesday after the hospital was washed out.
"We have reports coming in that there are diarrhea outbreaks in the surrounding areas," he said.
Taiwan's Ministry of Foreign Affairs yesterday sent inter-agency task force Taiwan International Health Action to the country to provide medical aid. The relief team comprises two doctors and one public health specialist.
additional reporting by Jewel Huang
Comments will be moderated. Keep comments relevant to the article. Remarks containing abusive and obscene language, personal attacks of any kind or promotion will be removed and the user banned. Final decision will be at the discretion of the Taipei Times.