Las Vegas counts on Asian bettors
Every January or February there is a surge in action on the baccarat tables and the Las Vegas Strip turns a festive red, decorated with dragons and Chinese characters.
Looking for a lucky start to the year, Chinese tourists make the pilgrimage to the desert for Lunar New Year to put their fates to the test.
Even this year, with the NBA professional basketball All-Star game in town and a US federal holiday, President's Day, falling on the same weekend, casino executives are keeping their eye on the prize -- the hundreds of millions of dollars wagered by Asian players.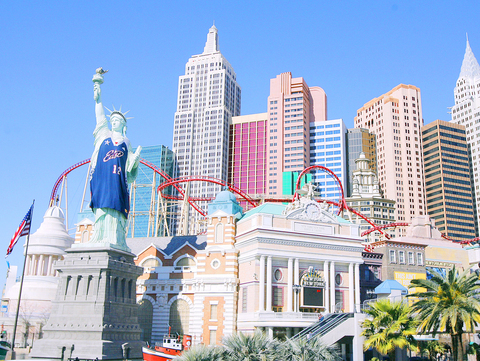 A replica of the Statue of Liberty is draped with a new NBA All-Star jersey at New York New York hotel-casino in Las Vegas, Nevada, on Wednesday. Even with the NBA game in town, casinos are focused on Asians flocking in for the Lunar New Year holiday.
PHOTO: AP
"This is our 32nd year of doing Chinese New Years. I'd say the Chinese New Year was more important," said John Unwin, general manager of Caesars Palace.
The fortunes of large casino operators are increasingly tied to the Chinese consumer and the gambling companies' developments in Macau, which became the most lucrative gambling destination in the world last year.
Las Vegas still gets its share of the action. Last year, the amount Strip casinos won off baccarat -- played mostly by Asians -- grew 25 percent to US$832 million, second only to blackjack at US$986 million, according to Nevada regulators.
A year ago when Chinese New Year was celebrated in January, players wagered US$827 million on Strip baccarat tables during the month, losing US$90.9 million, more than was lost at either blackjack, craps or roulette.
In contrast, the All-Star game is expected to attract 25,000 visitors and generate US$26.7 million in non-gambling economic activity, according to the Las Vegas Convention and Visitors Authority.
"The first quarter is traditionally the strongest quarter in Las Vegas," said Brad Stone, executive vice president at Las Vegas Sands Corp, which owns The Venetian casino resort and is building seven projects in Macau. "Certainly one of the things that fuels that is the Chinese New Year celebration."
The Year of the Pig celebration starting today brings to Las Vegas famous Asian performers and dragon dances are scheduled at properties across the Strip.
The two-week celebration also draws the year's highest rollers, said Caesars Palace vice president of table games, Jimmy Wike. These are players who can bet the maximum of US$150,000 per hand, and by casino rules must have deposits or credit lines worth at least US$3 million, he said.
"This event caters to the very biggest players in the world," Wike said.
Two years ago, Las Vegas Sands retrofitted The Venetian with a US$50 million upgrade called the Paiza Club, an invitation-only, Chinese-themed gambling salon.
For some of the biggest gamblers, chartered jumbo jets, personal limousine service and a 24-hour butler all come with a complimentary suite. Five of them, the 743m Chairman Suites, were designed with the help of a feng shui master. Las Vegas Sands caters to its important patrons by flying in its top chefs from China to prepare meals, such as shark's fin or bird's nest soup.
At Strip properties owned by MGM Mirage, such as Bellagio or The Mirage, service staff and executives stuff their jacket pockets with hongbao, sometimes as little as US$1 or as much as US$100, to give to Chinese guests.
MGM Mirage's sensitivity to Chinese culture is built into its Las Vegas resorts. Mandalay Bay's hotel towers go directly from the 39th floor to the 60th to avoid unlucky numbers in the 40s and 50s.
Executives believe such measures will ensure free-spending Chinese tourists continue making gambling trips, despite Macau's growth.
Mickey Peng, a 32-year-old fashion company owner from Shenzhen, fits the profile. During the two-week holiday, she'll hit both coasts -- her trip has taken her from Hawaii to Los Angeles to Las Vegas and she's headed to New York.
"In Macau, only the casinos are good. I don't see any other things," she said. "Here there are so many shops, many high-end shops ... We went to the Grand Canyon yesterday. It was very exciting."
Ninety percent of all Chinese visitors to the US spend some part of their trip in Nevada, said Bruce Bommarito, a vice president of the Travel Industry Association of America.
Comments will be moderated. Keep comments relevant to the article. Remarks containing abusive and obscene language, personal attacks of any kind or promotion will be removed and the user banned. Final decision will be at the discretion of the Taipei Times.