Mexican leader determined to end drug wars
`NO QUARTER' Following the killing of seven law enforcement officials, President Felipe Calderon said that he will not quit until the `enemies of Mexico' are stopped
Mexican President Felipe Calderon said there will be "no truce and no quarter" in his war on drug gangs following the killing of seven law enforcement officials in an apparent attempt to intimidate the federal government.
Flanked by the commanders of the army, navy and air force, Calderon told troops at a military base on Saturday that the government will not be strong-armed by organized crime.
"We are not going to surrender, neither from provocation nor attacks on the safety of Mexicans," Calderon said. "We will give no truce or quarter to the enemies of Mexico."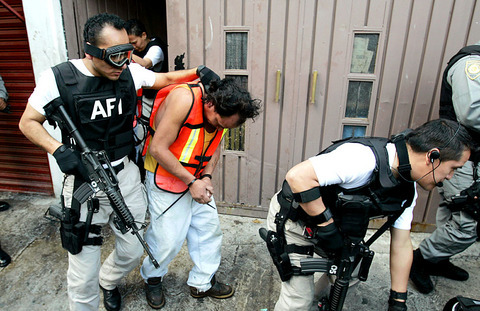 Members of Mexico's Federal Investigative Agency escort a group of men out of a building during a drug operation in Mexico City on Friday.
PHOTO: AP
On Tuesday morning, more than a dozen armed men killed five agents and two secretaries in simultaneous attacks on two offices of the state attorney general in Acapulco.
The attackers were dressed in military uniforms and pretended to be conducting a weapons check, asking the agents to hand over all their rifles before opening fire.
Police later found a note in a van believed to be used in the attack with the defiant message: "We could give a damn about the federal government, and this is proof" -- an apparent reference to the shootings. The vehicle was parked outside a house packed with automatic rifles and military uniforms.
Calderon, a career politician in the conservative National Action Party, narrowly won election last year on promises to smash drug gangs blamed for killing more than 2,000 people last year, many in execution-style killings and gruesome beheadings.
Since taking power in December, the president has sent more than 24,000 soldiers and federal police to areas ravaged by drug violence, including 7,000 to Acapulco's Pacific state of Guerrero.
He has also extradited four alleged drug kingpins to the US where they could be given life sentences in high-security prisons.
"I instruct you to persevere until victory is achieved," he told the troops on Saturday. "New pages of glory will be written."
Calderon's position has won him praise from Washington, with US Drug Enforcement Administration chief Karen Tandy describing his initiative as "an enormous leap forward."
The country's drug gangs are believed to earn more than US$10 billion a year smuggling Mexican-made heroin, marijuana and amphetamines and Colombian cocaine into the US.
Some Democratic Revolution lawmakers helped draft a bill to legalize possession of small amounts of cocaine, heroin and marijuana, which Mexico's Congress approved last year. However, former president Vicente Fox refused to sign the bill after an outcry from US officials.
Comments will be moderated. Keep comments relevant to the article. Remarks containing abusive and obscene language, personal attacks of any kind or promotion will be removed and the user banned. Final decision will be at the discretion of the Taipei Times.