Palestinian eyes on Fatah, Hamas meetings in Mecca
PURSUING PEACE The Mecca talks were the latest effort by President Abbas to try to forge a unity coalition and to ease an international aid boycott
While Hamas and Fatah leaders met in Mecca in a last ditch attempt to avert civil war, gunmen in the Gaza Strip fortified their positions in case the talks fail.
A ceasefire has largely held since Sunday, ending four days of battles that killed more than 30 people in the worst violence since the infighting began last May. Many feared a new round of infighting if the Mecca talks do not result in an accord.
Previous truces have quickly collapsed, in part because politics in Gaza overlap with clan rivalries, steeped in a culture of revenge.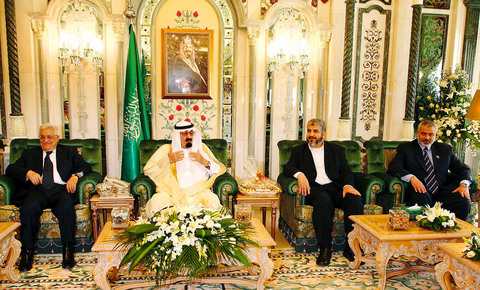 Saudi Arabia's King Abdullah, second left, meets with Palestinian President Mahmoud Abbas, left, Hamas leader Khaled Meshaal, second right, and Palestinian Prime Minister Ismail Haniyeh in Mecca on Wednesday.
PHOTO: EPA
The Islamic militant Hamas and the Fatah movement of moderate Palestinian President Mahmoud Abbas have been locked in conflict since Hamas won an election a year ago and ousted Fatah from power.
A 6-year-old boy wounded during clashes on Feb. 1 died on Wednesday, hospital officials said.
Abbas has been trying to forge a unity coalition to bring his party back in and ease an international aid boycott imposed on the Hamas-led government. The Mecca talks are just the latest effort.
Many Palestinians were anxiously watching the Mecca talks on Wednesday.
Imprisoned West Bank Fatah leader Marwan Barghouti, serving multiple life sentences in an Israeli prison for involvement in fatal attacks, demanded results.
"If the dialogue currently taking place in Mecca fails, history will have no mercy on those who took part, and they will not soon be forgiven by the Palestinian people," he was quoted in an e-mail sent to AP.
In Gaza City, Hani Rajab, 23, said his street stand with batteries, tapes and cards was doing good business.
"People are finding ways to waste time. They are buying card games," he said, but was skeptical about prospects for an agreement.
Another vendor, Mazen Kheil, 27, said people were buying dried foods that can be stored easily -- a sign they expected more violence.
At Gaza City's Shifa Hospital, 62-year-old Said Sarhan visited a cousin, a bystander wounded in the fighting.
"We are fed up with both of them [Hamas and Fatah] and we are victims of both," he said.
Every report of a violation threatened to re-ignite the violence. Gunmen reinforced rooftop firing positions in Gaza City, sandbags were added to street positions and cement blocks taken from a nearby marina were set up around Abbas' compound.
The clan element surfaced on Wednesday after a late-night shooting. Hamas said members of the Abbas-allied security forces stopped a vehicle carrying Hamas gunmen, lined them up facing a wall and opened fire, killing one and wounding four.
Hamas spokesman Ismail Radwan said the attack was a "blatant violation" of the truce.
However, the local Dughmush clan said it carried out the attack to avenge two family members killed in December by Hamas. Ahmed Dughmush said they planned more attacks against Hamas militants he suspected of involvement in the killing of his relatives.
Comments will be moderated. Keep comments relevant to the article. Remarks containing abusive and obscene language, personal attacks of any kind or promotion will be removed and the user banned. Final decision will be at the discretion of the Taipei Times.