Downpours add to Jakarta woes
STORM WATERS Residents in several districts in the Indonesian capital said water levels dropped on Monday, only to rise to as high as 2m after heavy rain overnight
Overnight downpours sent storm waters coursing back into some low-lying areas of Indonesia's capital yesterday, but authorities said floods had receded elsewhere, allowing more than 115,000 people to return home.
About 220,000 people remained in temporary shelters, however, and the death toll from days of flooding in Jakarta rose to 36 after more reports of fatalities were confirmed, a police spokesman said.
As authorities warned of the threat of diseases such as diarrhea and dysentery, anger mounted at the government's response to the floods, which burst river banks throughout the city on Thursday, turning scores of districts, rich and poor alike, into lakes of muddy water.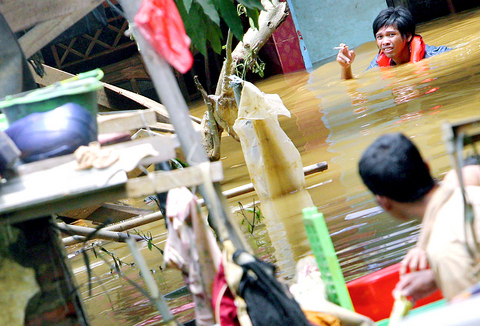 A flood-affected man smokes a cigarette as he wades through his flooded neighborhood in Jakarta yesterday.
PHOTO: AFP
"We live in modern times. People should have been warned," said Stefanus Lamury, who lives in a flooded residential area close to the center of the city of 12 million people.
"No one should have died because of this," he said.
Soldiers had delivered instant noodles and rice by boat to those who chose to stay in the upper floors of their homes, refusing to evacuate out of fears that looters might target their properties, army Captain Tohar said.
Most of those who fled their homes are staying at mosques, schools or government buildings, sleeping on the floor with little access to bathrooms. Communal kitchens have been set up, but many complained of receiving little food.
"I guess this is just my fate," said Ponirah, a 37-year-old housewife sleeping along with scores of others in the corridor of a government apartment complex, her own house immersed by water.
"We are given bread every now and again, but it is not evenly distributed," said Ponirah, who like many Indonesians uses only one name.
Authorities earlier estimated that up to half of the city, which covers an area of more than 660km2, had been submerged by waters reaching up to 4m deep.
Residents in several districts said water levels had dropped or receded completely late on Monday, only to rise again after heavy downpours overnight. Most of the renewed flooding was reported to be between 50cm and 2m deep.
Witnesses reported that waters had receded in other districts.
Rustam Pakaya, head of the Health Ministry's crisis center, said the number of people forced from their homes had dropped to 221,088 from almost 340,000 on Monday.
"Many people have returned home after waters have receded," he said in a statement.
The country's meteorological agency said light rains were forecast over the next few days.
"The coming rains will not be as intense as those that triggered the big floods," forecaster Ahmad Zakir said.
"Nevertheless, at the moment rivers are still swollen. People have to remain vigilant for the next two or three days," he said.
Landslides and flash floods during the wet season kill hundreds in Indonesia every year, and the capital is not immune, but it has rarely -- if ever -- seen floods as bad as those in recent days.
The high water inundated scores of markets, schools and businesses across the city. Electricity and water supplies have been cut to much of the city and its surrounding towns.
Environmentalists blame the annual flooding on trash-clogged storm drains and rivers, inadequate urban planning and deforestation of hillsides south of the city, often to make space for the development of luxury villas.
The government dispatched medical teams on rubber rafts to worst-hit areas, where doctors treated people for diarrhea, skin diseases, respiratory problems and exposure after they had spent days in damp, dirty clothes.
"We have to be alert for diseases like typhoid, those transmitted by rats and respiratory infections. Hopefully, there will be no dysentery," said Health Minister Siti Fadilah Supari, urging residents to try to stay clean.
Flood conditions are also ideal for spreading malaria, dengue fever and the bird flu virus.
Comments will be moderated. Keep comments relevant to the article. Remarks containing abusive and obscene language, personal attacks of any kind or promotion will be removed and the user banned. Final decision will be at the discretion of the Taipei Times.