Thousands flee as Jakarta floods reek havoc
UNDERWATER CITY The Indonesian environment minister said many developers had not paid enough attention to the ecological impact of their construction projects
Floods that have killed five people and sent over 100,000 people fleeing their homes in Indonesia's capital wrought more havoc yesterday, with many parts of the city under neck-deep water and authorities warning more rivers may burst their banks.
Two days of incessant rain triggered floods in Jakarta that inundated thousands of homes, government offices and busi-nesses on Friday, forcing authorities to cut off electricity and water supplies.
Waters had receded slightly yesterday in some city-center districts but were rising in outlying areas, media reports said. Several main roads leading to the city of 12 million people were blocked, and the rail network was crippled.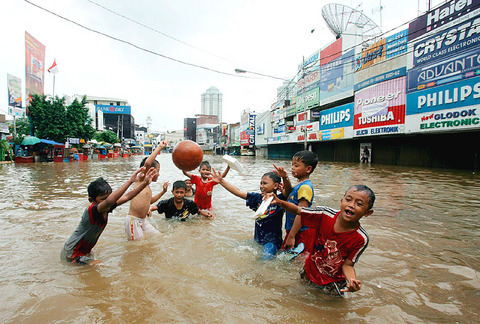 Boys play at a flooded shopping area in Jakarta, Indonesia, yesterday. Heavy rains caused flooding in some areas of the Indonesian capital forcing hundreds of residents to leave their houses.
PHOTO: EPA
Five people had died, having been either drowned or electrocuted, and about 106,000 people had either fled their homes or been rescued by soldiers using dinghies, said Sunardi, an official at the city's disaster relief center. Like many Indonesians, Sunardi goes by a single name.
They are staying with family or in mosques, schools and government buildings on higher ground, he said.
Hendri, an official monitoring waters levels at sluice gates on major rivers, said rains falling in the hills south of Jakarta could result in more flooding.
"We must be on guard. The weather is still our enemy here," Hendri said.
"Those who live in flood prone areas, please seek refuge," he added.
The country's meteorology department were forecasting more rains yesterday and over the next two weeks.
Meanwhile, Environment Minister Rachmat Witoelar has blamed excessive construction on water catchment areas for the floods.
Witoelar said excessive construction on natural drainage areas had led to the floods, the state Antara news agency reported late on Friday.
"There are too many malls in the capital city," he said.
Jakarta has undergone a construction boom recently as the economy recovers to pre-1997 Asian financial crisis levels.
The minister said many developers had not paid enough attention to the ecological impact of their construction projects.
Some 13 rivers crisscross Jakarta, with 78 zones considered at risk of easily flooding, including densely-populated districts.
Old Batavia, the former colonial port under the Dutch from where Jakarta has expanded, was built on marshland. Certain areas of the capital still remain below sea level and have weak drainage, with major tides resulting in the outflow of rainwater slowing down.
To improve the situation, authorities have for quite some time envisioned constructing an East Jakarta Canal that would be some 24km long.
So far only about a third of it has been built and the city council earlier this month reportedly cut the budget allocated to buy land for the project.
Comments will be moderated. Keep comments relevant to the article. Remarks containing abusive and obscene language, personal attacks of any kind or promotion will be removed and the user banned. Final decision will be at the discretion of the Taipei Times.