Afghans planning Taliban ouster
MUSA QALA OFFENSIVE A Taliban assault on Thursday, days after a Taliban leader was killed outside the town, raised doubts about the future of an October peace deal
Afghan security forces supported by NATO-led troops will soon launch an operation to recapture a southern town that was overrun by Taliban militants, an official said yesterday.
General Mohammad Zahir Azimi, the spokesman for the defense ministry, said the Taliban remained in control of the town of Musa Qala in Helmand Province, which British troops left after a contentious peace agreement in October.
Hundreds of Taliban militants overran Musa Qala on Thursday evening, destroying the government center and temporarily holding elders hostage, officials and residents said on Friday.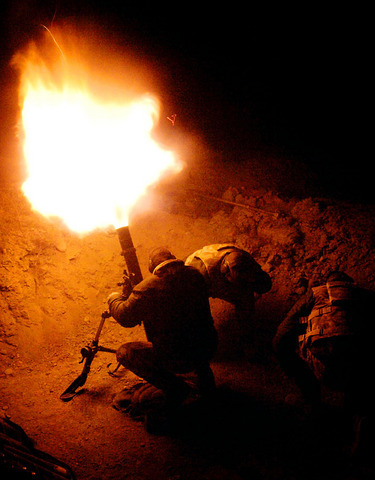 British soldiers fire off a mortar as they conduct a major operation in Helmand Province, Afghanistan, on Jan. 16.
PHOTO: AP
The militants' assault, days after a Taliban commander was killed outside the town, raises doubts about the future of the peace deal, which has been criticized by some Western officials as a NATO retreat in hostile Taliban territory.
"We have a plan and we are going to launch that plan very soon," Azimi said.
"All our operations are conducted jointly with the police and NATO," he said without elaborating further.
Squadron Leader Dave Marsh, a spokesman for the NATO-led troops in southern Afghanistan, said that alliance troops stand ready to respond to any decision made by the Afghan government.
Colonel Tom Collins, a spokesman for NATO's International Security Assistance Force, said an "unknown number" of militants had entered Musa Qala. He said late on Friday that no NATO-led forces were in the town.
British forces are based in Helmand Province but left Musa Qala in October after a peace agreement was signed between elders and the Helmand governor. According to the deal, security was turned over to local leaders, while NATO forces were prevented from entering the town.
Some Western officials complained that the deal put the area, which had been a center for clashes between British troops and resurgent Taliban militants, outside of government and NATO control.
Asadullah Wafa, the governor of Helmand Province, said the militants destroyed part of the compound housing the district's governor and police.
"People have closed down the shops this morning and those living near the area have moved out of fear," he said on Friday.
Mohammad Wali, a resident of Musa Qala who estimated that between 200 and 300 fighters were in town, said residents feared fighting between NATO and militants would resume. Raz Mohammad, another resident, said the Taliban had taken about 12 town elders hostage. Collins said there were indications the elders were now safe.
Late last month, NATO said an airstrike outside of Musa Qala destroyed a Taliban command post, killing a senior militant leader and a number of his deputies. NATO said the Jan. 25 airstrike "was outside the area of the agreement" and did not violate it.
However, Wafa said the Taliban told a gathering of elders last week that they considered the airstrike a violation, and it appeared the assault was in retaliation.
Violence in Afghanistan has risen sharply. Some 4,000 people died in insurgency-related violence last year, according to a count based on numbers from Afghan, NATO and US officials.
US General Dan McNeil will replace British General David Richards today as the commander of more than 40,000 NATO-led troops in Afghanistan.
Comments will be moderated. Keep comments relevant to the article. Remarks containing abusive and obscene language, personal attacks of any kind or promotion will be removed and the user banned. Final decision will be at the discretion of the Taipei Times.