Colombian president orders seizure of paramilitary assets
Colombian President Alvaro Uribe on Thursday ordered the seizure of assets belonging to demobilized paramilitary leaders after the killing of a woman who was leading a campaign to reclaim land stolen by the illegal militias.
In a brief communique, Uribe's office called the seizure order "a preventative measure" to ensure that the paramilitary bosses' massive holdings are available for the reparation of their thousands of victims.
Under the law enshrining the demobilization of some 31,000 paramilitary fighters, the jailed militia bosses have been assured prison terms of no more than eight years if they confess to the crimes they committed in a reign of terror lasting more than a decade.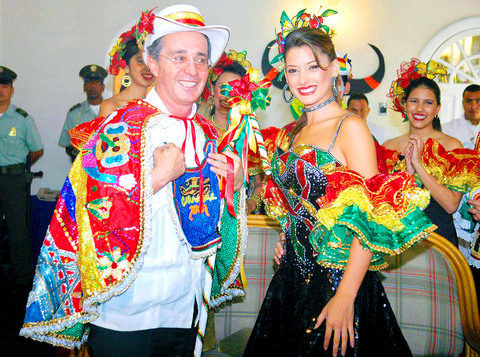 Colombian President Alvaro Uribe, left, wears traditional garb prior to a carnival in Barranquilla, Colombia, on Tuesday. On Thursday, Uribe ordered the seizure of assets belonging to demobilized paramilitary leaders.
PHOTO: AP
The paramilitary chiefs must also surrender land and other assets they illegally appropriated so they can be returned to their rightful owners.
Under the guise of a counterinsurgency campaign, the private right-wing armies methodically and brutally stole millions of hectares of prime rural real estate from Colombian peasants, massacring thousands in the process.
Uribe's administration has come under blistering criticism from human rights groups for policies that they say would let the thieves keep the vast majority of the pilfered lands.
The rural land registry system is a mess. Paramilitary leaders have deftly hidden the ownership of plundered parcels. Land registrars have been murdered and real estate records have disappeared in suspicious fires.
The president's announcement follows the murder on Wednesday of Yolanda Izquierdo, who headed an organization of dispossessed peasants seeking to regain ranches in the state of Cordoba, the heartland of the paramilitaries.
Two gunmen surprised Izquierdo as she was leaving her home in the city of Monteria after dark, pumping two bullets into her head and leaving her husband severely wounded with two gunshot wounds to his chest, police said.
In December, Izquierdo filed a complaint with the Federal Ombudsman's Office in Monteria on behalf of 416 families who said they were intimidated early this decade into forfeiting land that had been granted to them a decade earlier.
Izquierdo had visited the office on the day she was killed and was provided instructions on how to formalize the complaints with the federal land agency, said Alvaro Sanchez, a lawyer in the Ombudsman's Office.
She had received death threats for seeking to reclaim the lands and complained about them to the chief prosecutor's office on Jan. 15, a government official said.
The official, who spoke on condition of anonymity because he was not authorized to divulge the information, said Izquierdo approached authorities on Monday asking to be given bodyguards. But no bodyguards were assigned her.
The UN High Commission for Human Rights issued a statement on Thursday deploring Izquierdo's killing that said: "She represented an abundant group of displaced people who have been demanding the return of land usurped by paramilitaries."
Human Rights Watch-Americas cited the murders of Izquierdo and another victims' representative from Cordoba -- Freddy Abel Espitia, who was killed on Monday -- as being "clearly intended to intimidate victims and witnesses and prevent them telling the truth about paramilitary abuses."
"These deaths bring into question the credibility of the whole paramilitary demobilization process," Human Rights Watch said.
The government has offered a reward of US$23,000 for information leading to the arrest of Izquierdo's killers.
The paramilitaries first emerged in the 1980s, bankrolled by ranchers and drug traffickers, in order to protect them from kidnappings and extortion attempts by leftist rebels.
But they later evolved into outlaws in military fatigues who got rich off of drug trafficking, massacred civilians suspected of collaborating with rebels and bought off and intimidated politicians.
Comments will be moderated. Keep comments relevant to the article. Remarks containing abusive and obscene language, personal attacks of any kind or promotion will be removed and the user banned. Final decision will be at the discretion of the Taipei Times.