Heavy floods paralyze Jakarta
BLOCKED Torrential rains pounded the Indonesian capital, forcing thousands of Jakartans to flee their homes while transportation was brought to a standstill
Floods blocked roads and railways in Jakarta and thousands of people abandoned their homes in low-lying areas as torrential downpours virtually paralyzed the Indonesian capital yesterday.
Streets normally jammed with traffic were quiet as floods brought public transport to a near-standstill, preventing many people from getting to work or school.
"I have been waiting for my bus for almost an hour. They are very few and far between and, when it comes, it is packed," said Hana, waiting in Kampung Melayu bus terminal for a bus to her office in central Jakarta.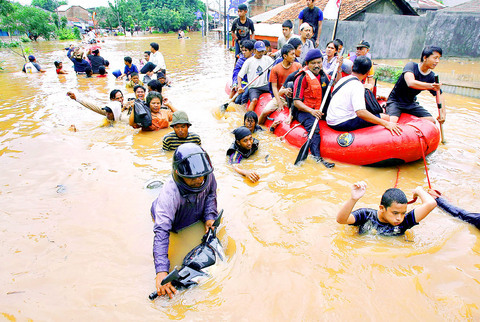 Rescue workers evacuate flood-affected people while others wade their way along a flooded street in Jakarta yesterday.
PHOTO: AFP
President Susilo Bambang Yudhoyono was also reportedly working from home.
Floods more than a meter deep have forced thousands of people to flee homes in lower-lying areas and districts along river banks, following heavy rains that have lashed the capital since Wednesday.
Indonesian Red Cross volunteers were cooking and delivering food to people stranded in their flooded homes or sheltering on the side of streets.
"We opened a public kitchen on Wednesday in East Jakarta for 2,300 people and in South Jakarta for 4,500 people," Indra from the Red Cross crisis center said.
Teams in inflatable boats rescued women clutching their babies from flooded houses in the worst-hit districts, TV news clips showed.
In other areas people waded through waist-deep floods trying to get to work while children played in the muddy brown waters, making the most of a day off school.
The key M. H. Thamrin highway, which runs north to south through the city, was flooded up to half a metre, causing traffic jams.
The Meteorology and Geophysics office said Jakarta could expect still more rain over the next few days.
"There is the potential for more heavy rains this month such as what we are experiencing these past few days in Jakarta, Bekasi and Tangerang," meteorologist Puguh said.
He said the rainy season had arrived late and was expected to end next month.
"The situation is not as bad as during 2002 because there is only moderate rain in Bogor and Depok," Puguh said.
Nearby Bogor and Depok are at a higher elevation and rain falling on there could exacerbate the floods in Jakarta.
In 2002, floods killed as many as 40 Jakartans and some 300,000 were forced to seek refuge in mosques, schools and even cemeteries.
State news agency Antara reported the main toll road connecting the capital with Bogor was blocked. The main toll road connecting Jakarta and Tangerang was also closed, and most train services were canceled or running very infrequently.
Comments will be moderated. Keep comments relevant to the article. Remarks containing abusive and obscene language, personal attacks of any kind or promotion will be removed and the user banned. Final decision will be at the discretion of the Taipei Times.