Iraq executions fuel calls to abolish death penalty
PRINCIPLES Jose Manuel Barroso, the president of the European Commission, said
The gruesome decapitation of former Iraqi president Saddam Hussein's half brother and Saddam's own undignified hanging have prompted renewed calls to abolish the death penalty worldwide as critics blamed the executions for fanning hatred in the Middle East.
Governments in the European Union, which has outlawed capital punishment, reiterated their opposition to the death penalty but did not comment on the manner of Monday's executions in Iraq of Saddam's half brother Barzan Ibrahim and former Revolutionary Court chief Awad al-Bandar.
Ibrahim plunged through the trap door and was beheaded by the jerk of the thick rope at the end of his fall.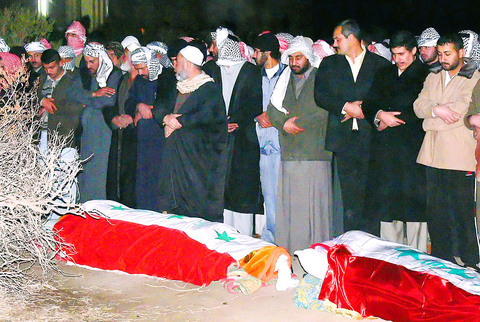 Iraqis pray over the bodies of executed Barzan Ibrahim al-Tikriti and Awad Ahmed al-Bandar on Monday during their funeral in the village of Awja, 180km north of Baghdad. Support for the worldwide abolition of the death penalty has risen after former Iraqi secret police chief al-Takriti and Bandar, the ex-chief of Iraq's Revolutionary Court, were hanged and Barzan's head ripped from his body.
PHOTO: AFP
The Iraqi government said the decapitation was an accident.
Saddam's Dec. 30 execution drew international outrage after a clandestine video showed the former president being taunted on the gallows. A second leaked video showed Saddam's corpse with a gaping neck wound.
A few hours after Ibrahim and al-Bandar were executed, European Commission President Jose Manuel Barroso and Italian Premier Romano Prodi condemned the hangings.
"Our position, born out of principle, is against the death penalty," Barroso said in Rome.
"It's an issue of values. We consider that no man has the right to take the life of another man," he said.
Italy has been leading a diplomatic drive since Saddam's execution to have the UN General Assembly discuss a worldwide moratorium on the death penalty.
On Tuesday, US President George W. Bush said Saddam's execution looked like "kind of a revenge killing" and showed that the government of Iraqi Prime Minister Nouri al-Maliki "has still got some maturation to do."
"I was disappointed and felt like they fumbled the ... particularly the Saddam Hussein execution," Bush said.
US Secretary of State Condoleezza Rice said: "We were disappointed there was not greater dignity given to the accused under these circumstances," she told reporters in Egypt.
Portugal's Justice Minister Alberto Costa said an international conference against the death penalty his country is hosting in October as part of an EU drive for a worldwide ban on capital punishment has been "lent greater importance" by the executions in Iraq.
Comments will be moderated. Keep comments relevant to the article. Remarks containing abusive and obscene language, personal attacks of any kind or promotion will be removed and the user banned. Final decision will be at the discretion of the Taipei Times.