US remembers Martin Luther King
As the US marked a national holiday in honor of slain black civil rights leader the Reverend Martin Luther King Jr. yesterday, more than 600 of his personal documents were going on display for the first time in Atlanta.
The exhibit -- which includes an early draft of his famed "I Have a Dream" speech in Washington in 1963 -- is a glimpse at the collection of more than 10,000 King papers and books Atlanta Mayor Shirley Franklin helped privately acquire for US$32 million last summer from Sotheby's auction house.
The mayor pulled off the deal with the help of more than 50 corporate, government and private donors to give the papers to Atlanta's Morehouse College, where King graduated in 1948 with a bachelor's degree in sociology.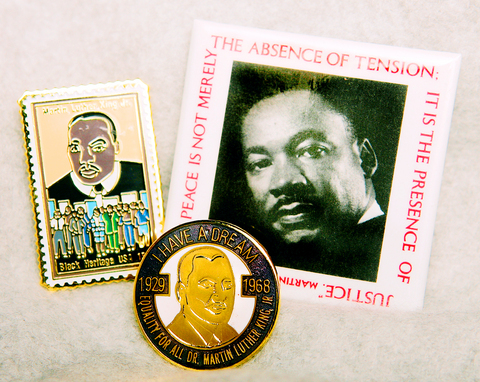 Pins depicting Martin Luther King Jr. that were given out at the University of Utah as part of their MLK programs are displayed on Sunday in Sandy, Utah.
PHOTO: AP
King would have turned 78 yesterday. He was assassinated in Memphis, Tennessee, in 1968.
The Atlanta History Center, where the exhibit will be open until May 13, is anticipating widespread interest of the papers. Until now, the collection had only been displayed at Sotheby's auction house in New York, both last summer and in 2003, in conjunction with the 40th anniversary of the 1963 March on Washington, when King delivered his "Dream" speech about his hope that people of all races would be treated equally.
Sotheby's called the collection "an unparalleled gathering of primary documents from Dr. King's most active years."
"The question is often asked, `Where is the dream coming from?'" said Elizabeth Miller, who curated the Sotheby's exhibit and helped with the smaller Atlanta exhibit. "This exhibit shows the genesis and the struggle of that internal journey."
Meanwhile, King's oldest daughter reminded those remembering her parents that the US has not yet attained peace and racial equality.
She urged an audience on Sunday at Ebenezer Baptist Church -- where her father preached for several years -- to be a force for peace and love and to use the King holiday yesterday to ask tough questions about their own beliefs on prejudice.
Comments will be moderated. Keep comments relevant to the article. Remarks containing abusive and obscene language, personal attacks of any kind or promotion will be removed and the user banned. Final decision will be at the discretion of the Taipei Times.