More flooding sparks disease fears in Malaysian south
MOSQUITO WORRIES Murky waters brought by southern Malaysia's worst flooding in a century have authorities worried about the spread of malaria and dengue fever
More than 100,000 people have been evacuated in southern Malaysia, ravaged by massive flooding that raised fears of water and mosquito-borne diseases, officials and news reports said yesterday.
Officials were close to imposing a state of emergency in Johor state where heavy rains have triggered a new wave of flooding after a previous deluge last month killed at least 17 people.
No casualties have been reported in the latest floods, caused by heavy rains that began last Friday and continued for almost 72 hours.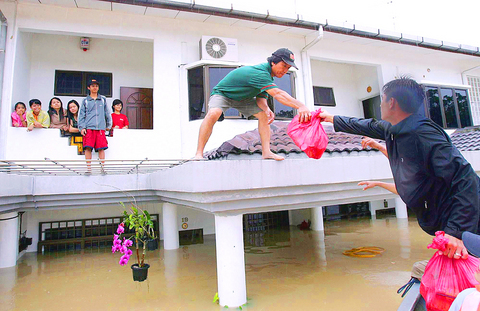 A volunteer distributes food to a family whose house is submerged in floodwater in Kota Tinggi, Johor State, Malaysia, yesterday.
PHOTO: AP
Several relief centers in the hardest-hit Kota Tinggi area are also overcrowded and cannot take in any more evacuees, an official at the Johor state flood operations center said on condition of anonymity, as he was not authorized to speak to the media.
"We need donations of food. Some [relief] centers have no more space already," the official said. "Blankets and warm clothing are also needed."
The town is cut off, with floodwaters as high as 4m engulfing houses, petrol stations, blocking roads, the New Straits Times said.
"It's been raining from Friday to Sunday," said businessman Alvin Tan from Johor Baru.
"A lot of groceries and provisions, even fish, there's either no stock or prices have all gone up," he said.
The fresh floods hit just a few weeks after many victims had returned home for a mammoth cleanup after the previous flooding -- the worst in a century -- that started on Dec. 19 and killed at least 17 people.
Prime Minister Abdullah Ahmad Badawi estimated losses at around 100 million ringgit (US$28.5 million).
The operations center official said there were currently about 110,000 flood victims in more than 300 relief centers in the state, and officials were on alert for the spread of diseases that can easily spread in the brown, murky water.
"We are also looking out for cholera, diarrhea and mosquito-borne illnesses like dengue and malaria," the official said.
He could not immediately say if there had been cases reported.
The New Straits Times newspaper on Monday also reported that in one relief center housing children in the state capital of Johor Baru, there was no rice left.
Malaysia's Meteorological Service said heavy rain was forecast for the area till the middle of the week.
The floods in historic Kota Tinggi town have been described as the worst in its history. Virtually the entire town was under water and only rooftops of houses and shops could be seen, images from the weekend's newspapers showed.
Johor has yet to declare a state of emergency, but one condition for its declaration has already been reached, the New Straits Times said.
"If the number [of those evacuated] exceeds 100,000 or the water level at dams reaches the `crash' level, we may declare a state of emergency," National Security
director in charge of disaster management Che Moin Umar said.
At relief centers, evacuees have been forced to sleep side-by-side in a cramped space.
Comments will be moderated. Keep comments relevant to the article. Remarks containing abusive and obscene language, personal attacks of any kind or promotion will be removed and the user banned. Final decision will be at the discretion of the Taipei Times.