French presidential candidate to question rights abuses in PRC
France's Socialist presidential candidate Segolene Royal was preparing yesterday to question China over alleged rights abuses committed in the jailing of lawyers and journalists, an official said.
Royal, who is seeking to become France's first female president in elections this year, will hand to Chinese officials a list of two lawyers and three journalists jailed in China, an official traveling with her said.
"We will ask for information on the reasons they have been detained," said Jean-Pierre Mignard, a lawyer traveling with Royal's delegation.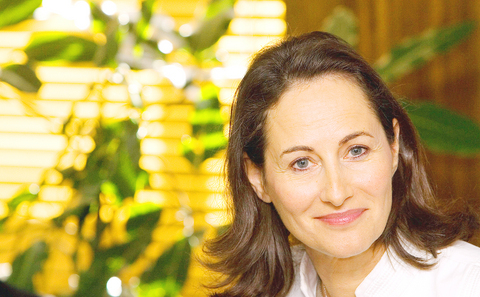 French presidential candidate Segolene Royal listens to students at the International Exchange Center of the China Foreign Affairs University in Beijing yesterday. Royal, hoping to burnish her foreign policy credentials, opened a visit to China on Saturday by urging France to see China's rising economic power as an opportunity.
PHOTO: AP
"There is no need to be offensive or aggressive in front of Chinese authorities, [but] this is our deliberate choice," he said.
"Without journalists, there will be no information and without information there will be no democracy," he said.
The list, which was accompanied by additional documents related to China's commitments in international treaties to safeguard human rights, would be given to Fice Foreign Minister Dai Bingguo (戴秉國), as well as Chinese legal and media associations, Mignard said.
The identities of the lawyers and journalists were not released.
International media watchdog Reporters Without Borders ranks China 163rd out of 167 countries on its global press freedom index.
Last month, the group said there were 31 reporters languishing in Chinese jails for simply carrying out their work.
On Sunday, Royal said on the second day of her visit to Beijing that for China to realize its often-repeated goal of "building a harmonious society," authorities needed to better safeguard human rights.
The 53-year-old mother of four is currently the frontrunner to succeed conservative President Jacques Chirac, polls indicate.
Her nearest rival, the center-right Interior Minister Nicolas Sarkozy, narrowly trails.
Chirac made close ties with China a priority during his presidency, visiting four times during his 12 years in power.
Royal is in China partly to help promote trade with France, but also has said she was invited by the Chinese government to address several French concerns.
These include fears that Chinese competition is undermining French jobs and goods and worries over China's soaring greenhouse gas emissions.
Aside from Dai, Royal was expected to meet yesterday with Chinese Vice President Zeng Qinghong (曾慶紅), as well as Commerce Minister Bo Xilai (薄熙來) and Zhou Shengxian (周生賢), the head of China's environmental protection bureau.
Comments will be moderated. Keep comments relevant to the article. Remarks containing abusive and obscene language, personal attacks of any kind or promotion will be removed and the user banned. Final decision will be at the discretion of the Taipei Times.