Ferocious gunbattle between Hamas and Fatah shakes Gaza
BREAK OUT The violence took place as Hamas militia tried to free two fighters, including a senior member of the group, who were captured late on Thursday
A brief but ferocious gunbattle between Hamas and Fatah militants broke out in Gaza City early yesterday, underscoring the fragility of a two-day-old truce between the rival factions. A Hamas militiaman injured in violence that touched off the shootout died of his wounds.
Separately, about a dozen Hamas and Fatah gunmen clashed at a Hamas rally in the West Bank town of Nablus later yesterday. There were no immediate reports of injuries.
The street battle in Gaza City, which encompassed the house of Foreign Minister Mahmoud Zahar of Hamas and the Gaza residence of President Mahmoud Abbas of Fatah, died down after about 20 minutes as Muslim clerics and other mediators worked to restore the ceasefire. Abbas was not in Gaza at the time.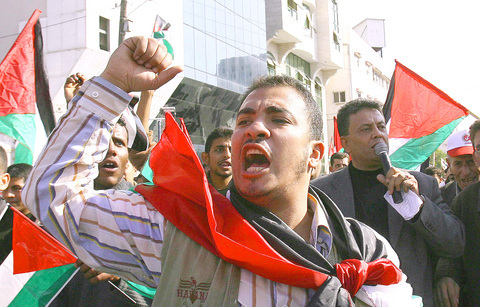 Palestinian demonstrators shout slogans against the unrest and lawlessness in Gaza during a protest in Gaza City on Thursday.
PHOTO: AFP
Despite the scale and intensity of the fighting, no one was wounded, health officials said.
The violence erupted out as Hamas militia tried to free two fighters, including a senior member of the Islamic group, who were captured late on Thursday.
In the tense atmosphere pervading Gaza, the firefight between Hamas and Fatah-affiliated militants who Hamas said were behind the abductions quickly spread out of control. Within minutes, it engulfed the presidential guard outside Abbas' house, other security officers in the area and the Hamas militiamen guarding Zahar's home and the nearby Foreign Ministry building.
Gunmen manning strategic positions on rooftops began shooting at others in the streets.
The presidential guard took up defensive positions behind newly built walls of sandbags and barriers of cement blocks outside Abbas' residence.
Hamas officials said the Fatah gunmen shot at Zahar's home.
One witness estimated that more than 2,000 bullets were fired in the first 10 minutes and several rocket-propelled grenades were also launched.
Residents of the neighborhood, the scene of other gunbattles over the past week, put their children in bathtubs for protection against stray bullets, residents said.
A Hamas militiaman injured in the course of the kidnapping, Ayman Jirjawi, died of his wounds early yesterday, said Islam Shahwan, a militia spokesman.
Comments will be moderated. Keep comments relevant to the article. Remarks containing abusive and obscene language, personal attacks of any kind or promotion will be removed and the user banned. Final decision will be at the discretion of the Taipei Times.