Feature: Iraqi translator loses everything in service of US Army
Omar Sattar Hussein -- an Iraqi working as a translator for the US Army -- goes by the nickname "Lucky," having survived, by his count, 37 shootings, 30 bombings and 11 mortar strikes.
He's also lost everything he ever cared about in the world: his family, his fiancee and his friends.
"I didn't choose my nickname. Everyone just started to call me that," he said. "Yeah, I'm lucky with my job. I've survived many attacks, but I'm very unlucky with my private life."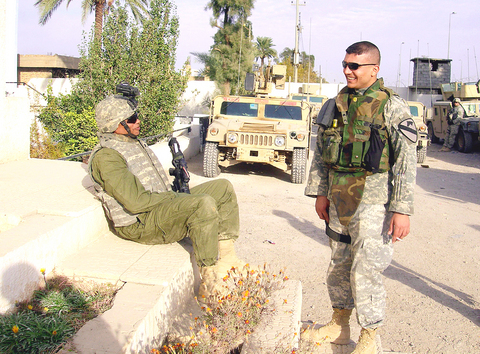 Iraqi translator Omar Satar Hussein, right, talks with US Army Lieutenant Colonel Morris Goins west of the restive city of Baqubah, Iraq, on Dec. 2.
PHOTO: AFP
The life of an interpreter for the US Army in Iraq is not an easy one. From social ostracism to death at the hands of insurgents, the job is fraught with risk.
"Everybody in Baqubah knows my job -- I work for the Americans," said Lucky, who, alone among his translator colleagues, does not wear a mask to conceal his identity.
"I have no family anymore. My grandfather told me that I didn't belong anymore, so [the US] is all I have."
Hailing from the restive city of Baqubah in Iraq's Diyala Province, now the scene of vicious sectarian battles and confessional cleansing, Hussein first learned English in school, but mastered the language from old music cassettes.
Abba, Bryan Adams, Lionel Richie all helped him along his linguistic journey. To this day, his favorite song is the Bee Gees' Staying Alive.
"That's what it's all about these days in Iraq," he joked.
"When we got a pirated copy of the movie The Godfather, I could tell my grandfather everything De Niro was saying. That's when I realized I spoke English," he said.
His close relationship with his grandfather, however, became one more casualty of the war when public opinion in Diyala turned against the US in 2004.
"I met with my grandfather and he told me: `You have to choose between the Americans and your family,'" he said.
But by that time, it was too late.
"Everybody knew what my job was, everybody knew that I work for the army and they called me a spy, so I gave him a quick answer -- the Americans. What could I do?" he said.
"He said I was no longer part of the family. I love my dad, my mom, my brothers, but I don't see them anymore -- it's very sad," he said.
Now his friends, and even his fiancee, refuse to speak to him and he stays on base on his days off, just like US soldiers.
His best friend and fellow interpreter Samer, nicknamed "84," was killed in a roadside bomb attack that destroyed the humvee he was riding in.
Lucky has survived 30 of these kind of attacks, including one that earned him a military decoration when he was the only person unharmed in a blast that killed one soldier and wounded two.
He carried two comrades to safety so that they could eventually be treated for their wounds at a military hospital.
Hussein himself has become pretty familiar with the inside of a US military operating room and likes nothing better than showing off his collection of scars that stretch from his head to his toes, including a nasty cut on his leg from shrapnel that came from a rocket launched by an Apache attack helicopter.
"If I hadn't been lucky I would probably be dead," he said.
A bit of a show-off, Hussein is one of the rare interpreters who actually speaks English like a native, having particularly mastered American slang and profanity.
His fellow interpreters are constantly checking with him for help in translating al-Qaeda propaganda found in marketplaces or announcements that the US military wants to make to the public.
"He's really good," said Lieutenant Colonel Morris Goins, the battalion commander, for whom Hussein works directly.
Besides his job, there is really nothing to keep Hussein in Baqubah and all he wants to do is get out. His hope now is to take advantage of a naturalization program put in place by the US military for interpreters.
"I sent in all the recommendations I had," he said. "I hope it will work out -- it's all I have left."
Comments will be moderated. Keep comments relevant to the article. Remarks containing abusive and obscene language, personal attacks of any kind or promotion will be removed and the user banned. Final decision will be at the discretion of the Taipei Times.