Thousands trapped as fighting rages
Thousands of civilians were on the run yesterday in Sri Lanka's restive northeast after heavy artillery exchanges left over 85 people dead, according to the Tamil rebels and government forces.
The defense ministry said that 1,450 displaced by the fighting in the district of Trincomalee found temporary accommodation in schools, temples and public building in the neighborhood.
The ministry said that 40 Tamil Tiger rebels were killed and another 40 were wounded when troops retaliated against Tiger artillery attacks on Saturday.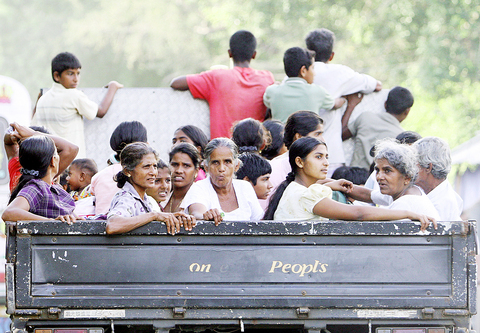 Civilians ride in a truck on their way to a temporary shelter in the northeastern town of Kantale, Sri Lanka, yesterday as they flee heavy artillery exchanges at a nearby village. Thousands of civilians are on the run in the northeast after heavy artillery exchanges left more than 85 people dead.
PHOTO: AFP
It said government forces lost two soldiers and that another 37 were wounded.
However, the Liberation Tigers of Tamil Eelam (LTTE) said 45 people were killed, including at least 15 civilians in areas held by them following the army's shelling.
"In the battle that lasted for several hours, 30 Sri Lanka army soldiers, including two senior officers, were killed. Five bodies of soldiers have been captured by the LTTE," the Tigers said. "Some weapons were also captured."
The Tigers placed their losses at seven cadres wounded.
Both sides blamed each other for the plight of civilians trapped in rebel-held areas as well as territory controlled by the military.
Hundreds of civilians were also unable to leave because of the sporadic artillery attacks on the main roads, a military official in the area said by telephone.
The two sides were exchanging long-range attacks along the district borders of Trincomalee and Batticaloa, local officials said adding that much of the fighting had died down yesterday.
The renewed attacks came after peacebroker Norway failed on Friday to secure an agreement to end a blockade on the Jaffna Peninsula, where nearly half a million people are trapped by fighting.
Comments will be moderated. Keep comments relevant to the article. Remarks containing abusive and obscene language, personal attacks of any kind or promotion will be removed and the user banned. Final decision will be at the discretion of the Taipei Times.