Storm kills 59 in south Vietnam
BAD YEAR aggressive Typhoon Durian was the ninth typhoon to slam into Vietnam this year, sinking 696 boats and damaging more than 120,000 houses
Rescuers searched for scores of missing people after a typhoon swept southern Vietnam with strong winds and rain, killing at least 59 and damaging or destroying thousands of homes, officials said yesterday.
Flood control authorities told south-central provinces that rivers were rising and they should prepare for flooding in the aftermath of Typhoon Durian, which struck the coast on Monday night and Tuesday with 120kph winds.
"Localities should expand their efforts to continue to rescue and find missing people," said Deputy Prime Minister Nguyen Sinh Hung, coordinator of storm preparation and relief on state-run television.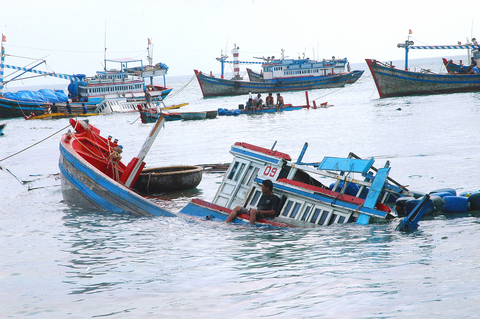 Fishing boats damaged by Typhoon Durian float in the water on Phu Quy island off the coast of Vietnam on Tuesday. At least 59 people were killed in the storm.
PHOTO: AP
Hung said they should work to "restore normal life, especially rebuild houses and mobilize military police and the youth union to help."
The storm was downgraded to a tropical depression and was heading west across the Gulf of Thailand yesterday.
Vietnam's national flood and storm control center said yesterday that Typhoon Durian killed at least 59 people in the four south-central provinces of Binh Thuan, Ba Ria Vung Tau, Ben Tre and Vinh Long.
Across the region, most people were killed by collapsed houses, flying tin roofs or collapsed trees.
The government evacuated thousands of people before the storm hit.
Some of those who lost their lives had refused to follow the evacuation order.
It said 29 people were still missing yesterday and that 433 were injured.
The government sent out a fleet of Air Force planes to search for missing people. The government also said some injured were not out of danger yet.
``The death toll could rise,'' said Pham Nhat Quang, a spokesman at the provincial military command. ``Many of the victims are in very bad condition.''
There was no immediate estimate of the cost of the damage from the storm, the ninth of the year in Vietnam, but it damaged or destroyed 120,899 houses and sank 696 fishing vessels, the government report said.
Durian, named after a strong-smelling spiky Asian fruit, slammed into the Philippines one notch below a category five super typhoon last Thursday.
Disaster officials yesterday raised the death toll to 543 and 740 missing.
Philippine officials decided to extend rescue efforts by 10 days in the villages devastated by mudslides at the foot of Mayon volcano when typhoon Durian hit.
Nearly 250,000 houses were damaged while agriculture and infrastructure damage was estimated at US$12.25 million.
In both the Philippines and Vietnam hundreds or even thousands of people are killed every year in tropical storms and typhoons that easily tear apart flimsy dwellings and fishing vessels, and cause widespread damage through floods and mudslides.
In May, hundreds of Vietnamese fishermen were lost in a typhoon named Chanchu.
In October, another typhoon, Xangsane, killed at least 70 and destroyed or submerged hundreds of thousands of homes when it struck the central coastal city of Danang, despite early warnings and preparations.
Comments will be moderated. Keep comments relevant to the article. Remarks containing abusive and obscene language, personal attacks of any kind or promotion will be removed and the user banned. Final decision will be at the discretion of the Taipei Times.