Oaxaca leftists vow to return to plaza
Leftist protesters in embattled Oaxaca City have vowed to re-establish a protest camp from which they were dislodged during running street battles with police that injured at least 43 people and led to 152 arrests.
Equally unyielding, Governor Ulises Ruiz, whose resignation the protesters are demanding, made his first public tour of the damaged downtown area in months on Sunday and vowed to use "all the weight of the law" against violent protests.
Protest spokesman Florentino Lopez told local media that the demonstrators would set up camp again yesterday in the Santo Domingo plaza after being removed by federal police who used tear gas and water jets from tanker trucks.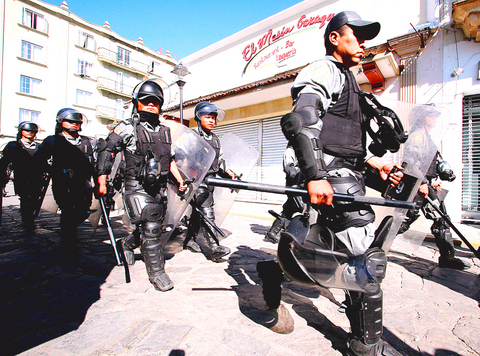 Federal Preventive Police members patrol the streets of Oaxaca, Mexico, on Sunday. The police struggled with members of the Popular Assembly of Oaxaca (APPO) on Saturday during a protest where the APPO said that it would take back the control of the city.
PHOTO: EPA
The violence broke out when masked youths broke away from a protest march on Saturday of about 4,000 people and hurled gasoline bombs, powerful fireworks and rocks at federal police in a failed attempt to encircle the officers holding the city's main plaza.
Police forced back the protesters and then removed them from the nearby Santo Domingo plaza, where they had regrouped after police re-entered the city in late October, ending a five-month takeover.
The federal police, who have largely remained in the main square and a few positions around the city, said they would actively patrol the city in search of those who committed "direct attacks" against them.
In a statement, the police said four of their officers and several bystanders were injured in the confrontation and accused outside activists of participating in the unrest that left three hotels damaged, 20 vehicles burned and several businesses looted.
Some supporters of the leftist movement, the Oaxaca People's Assembly, claimed the youths were provocateurs or government agents, but Lopez told local media they were simply demonstrators who "exercised their legitimate right to self defense."
Comments will be moderated. Keep comments relevant to the article. Remarks containing abusive and obscene language, personal attacks of any kind or promotion will be removed and the user banned. Final decision will be at the discretion of the Taipei Times.