Afghan car bomb attack kills three
A suicide car bomb killed two soldiers travelling in a convoy of the NATO-led International Security Assistance Force (ISAF) in southern Afghanistan yesterday, a military spokesman said.
"There has been a suicide vehicle attack just east of Kandahar city ... on an ISAF convoy," Squadron Leader Jason Chalk said. "Two ISAF soldiers have been killed."
The city has seen the most of a spate of suicide bombings in Afghanistan this year blamed on the Taliban.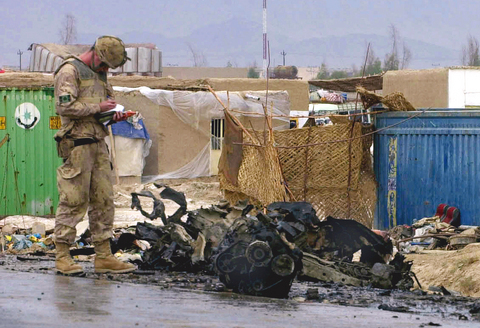 A Canadian soldier takes note over the wreckage of a suicide bomber's vehicle after an attack in Kandahar, Afghanistan, yesterday. Two Canadian soldiers and an Afghan civilian were killed and more than a dozen camels were injured in the attack, police said.
PHOTO: AP
The force of 31,000 soldiers drawn from 37 nations does not release the nationalities of its casualties, leaving that to the home country.
Kandahar's police chief said another NATO soldier was also wounded along with a Kuchi nomad, but ISAF could not immediately confirm this.
"Two NATO soldiers have been killed," provincial police chief Esmatullah Alizai said.
"One NATO soldier and a Kuchi is wounded and also 15 camels in the area are wounded," he said.
Paktika provincial Governor Mohammad Akram Kheplwak said most of the casualties were soldiers with a militia hired by US forces, who have a base in the area, to assist with patrols and searches.
Meanwhile, the government defended the presence of the nearly 40,000 foreign troops on its soil, rejecting Iranian President Mahmoud Ahmadinejad's statement that they were "occupiers" and should be made to leave.
On Sunday Ahmadinejad called for the peoples of the Middle East and Afghanistan to join forces to drive out foreign troops.
"The presence of foreign troops in Afghanistan is based on a United Nations Security Council resolution. They are here to prevent Afghanistan becoming a safe haven for terrorists," Afghan foreign ministry spokesman Sultan Ahmad Baheen said.
"These forces will go back home when this is achieved," he said. "Iran understands this."
In other developments, France will ask its NATO partners this week to set up a contact group to review and reorganize the alliance's mission in Afghanistan, a source close to French President Jacques Chirac said yesterday.
NATO took over responsibility for security in Afghanistan from the US this year.
Its mission is set to dominate discussions at a two-day summit of the 26-member alliance in Riga, Latvia, that starts today.
The presidential source said France would propose setting up a contact group that would comprise all the nations contributing forces to the ISAF mission, including non-NATO members like New Zealand, countries in the region and international organizations such as the World Bank and UN.
A French diplomat, who declined to be named, said yesterday that what was meant to be a NATO peacekeeping mission risked becoming a mission that was trying to impose peace on the country.
also see story:

Opium war a battle for soul of Afghanistan
Comments will be moderated. Keep comments relevant to the article. Remarks containing abusive and obscene language, personal attacks of any kind or promotion will be removed and the user banned. Final decision will be at the discretion of the Taipei Times.