Royal wins in Socialist primary
DARK HORSE Using an Internet site entitled 'Desires for the Future' to promote her idea of popular democracy, Segolene Royal has become a contender overnight
France's socialist favorite Segolene Royal moved a step closer to becoming the country's first ever woman president yesterday after she won a resounding victory in a party primary over two more experienced rivals.
In a ballot of some 220,000 Socialist Party (PS) members, Royal won slightly over 60 percent, well over the fifty percent of votes required to avoid a second round in the primary against her two rivals, Dominique Strauss-Kahn and Laurent Fabius.
"There will be only one round of voting and Segolene Royal will be the candidate of the Socialist Party in 2007," said PS election official Stephane Le Foll.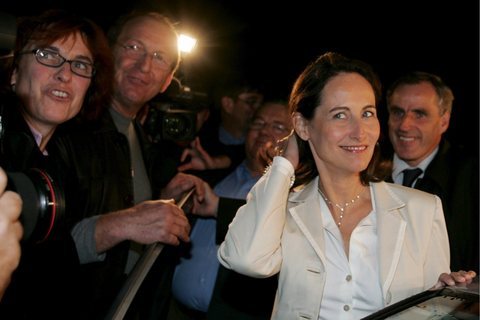 French Socialist Party presidential hopeful Segolene Royal leaves the press center after the counting of the votes during the party's primary in Melle on Thursday.
PHOTO: EPA
A mother of four and partner of the PS leader Francois Hollande, Royal was a little-known former junior minister when she launched her bid for the presidency a year ago.
Using an Internet site entitled "Desires for the Future" to promote her idea of popular democracy and enjoying constant exposure in the media, she overcame initial skepticism in the political establishment to position herself as a force for renewal.
Strauss-Kahn took 20.8 percent of the vote and Fabius 18.5 percent, according to near complete results.
The figures may change slightly when results from France's overseas departments are added, "but they show the trend very clearly and won't be called into question," said Le Foll.
Turnout was high, at just above 82 percent.
Royal, who voted on Thursday afternoon in the western town of Melle, acknowledged victory shortly before midnight.
"I would like to express all the happiness I am feeling. I am living this moment of happiness with intensity," she said.
"Together we are going to build something extraordinary. France is going to write a new page of its history. The country wants change. I want to embody that change," she said.
The scale of the success gave a major early boost for Royal's campaign for the April elections. Polls show she has a good chance of beating the likely contender for the right wing, Nicolas Sarkozy.
Aides of her two opponents conceded victory and called on all party members to come together to defeat the ruling Union for a Popular Movement (UMP).
"When there is a result like this, the responsibility of socialists is to recognise the result, to recognise Segolene Royal's designation and to announce that the task of all socialists now is to rally together to beat the right," said Fabius' campaign director Claude Bartolone.
"This evening it is confirmed. Segolene has been chosen on the first round. We wish her good luck and a fair wind. She wanted all means to take on Sarkozy. She has them," said Jean-Christophe Cambadelis, an aide to Strauss-Kahn.
The 53 year-old head of the Poitou-Charentes regional council, Royal has captured a popular mood in France by posing as an anti-establishment outsider and making policy pronouncements that often challenge her own party.
Accused by opponents of playing on her glamorous image and lacking political depth, she more than held her own during a month of campaigning for the primary election, which included six debates with her two rivals.
Her clear victory was helped by some 70,000 new party recruits, who were attracted by her growing popularity and see a Royal candidacy as the surest way of defeating Sarkozy at the election.
In her last rallies she called on party members to turn out in force, describing the vote as "the first round of the presidential election against the right" and likening the atmosphere to the optimism surrounding Francois Mitterrand's election in 1981.
Of her two opponents in the primary, Fabius -- a 60 year-old former prime minister -- represented the left of the party, while Strauss-Kahn, 57, a former finance minister, posed as the representative for moderate pragmatism.
France's election takes place over two rounds on April 22 and May 6, and polls show that Royal and Sarkozy are neck-and-neck. President Jacques Chirac has refused to rule out standing for a third term, though opinion surveys suggest he would have little chance of winning.
Comments will be moderated. Keep comments relevant to the article. Remarks containing abusive and obscene language, personal attacks of any kind or promotion will be removed and the user banned. Final decision will be at the discretion of the Taipei Times.