Daniel Ortega trades war for peace and love
Daniel Ortega returns to Nicaragua's presidency a shadow of the fiery revolutionary who in Cold War times vowed an endless fight against a US government determined to overthrow him.
Balding, weakened by heart trouble and often appearing almost docile, he now preaches reconciliation and stability. He has traded his wartime military fatigues for a white shirt and jeans, and promises to maintain close ties with the US and the veterans of the Contra army it trained and armed against him. His guide is God, not Karl Marx.
The US and his rivals worry the Sandinista revolutionary in him will resurface, as Venezuelan President Hugo Chavez and Cuban leader Fidel Castro welcome him into a club of leftist leaders fighting US dominance in the region.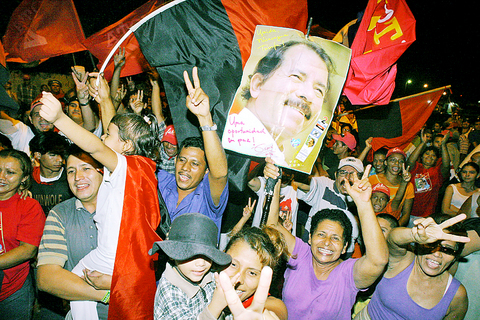 Supporters of Nicaraguan president-elect Daniel Ortega celebrate his election victory in the streets on Tuesday in Managua. The former US Cold War foe won Nicaragua's presidential election 16 years after he was voted out of office at the end of a bloody civil war against US-backed Contra rebels.
PHOTO: AFP
But Ortega, who was president in 1985-90, the height of the Contra insurgency, says he has traded war for peace, love and consensus.
His victory speech late on Wednesday was tinged with some of his old fire. Raising his arms in victory, he led thousands in a rendition of an old revolutionary chant: "The people united will never be defeated."
He promoted socialist ideals such as free education and medical care, lambasted US Republicans for the war in Iraq and thanked other leftist Latin American leaders for their support. But most of his speech was dedicated to praising democracy and reaching out to opponents.
"Don't let one criticism slip from your lips against those who didn't vote for us," he warned his supporters. "We have to be humble."
Ortega, who takes office on Jan. 10, has been careful not to sound triumphalist. Even though his strong lead over Eduardo Montealegre was clear soon after Sunday's election, he waited two full days for Montealegre to concede defeat before declaring victory.
All of his speeches have focused on reassuring skeptics that he plans no radical changes and will embrace free trade, job creation and close US ties.
Perhaps the biggest sign that Ortega has changed is his vice president, former Contra spokesman Jaime Morales.
Shortly after the Sandinistas ousted dictator Anastasio Somoza in 1979, Morales' wife came home to find Ortega's wife, Rosario Murillo, occupying her house and wearing the family's clothes and jewelry. Morales spent years fighting for restitution.
Recently, he got it: Ortega returned works of art, a desk that was a family heirloom, and other things.
Shortly after, Morales agreed to run as his vice president, saying he preferred "the strange to the unknown."
"We agreed on peace 18 years ago, and it's time to heal that wound," Morales said. "Maybe together we can get people to forgive and forget and move on."
He said the next five years will be nothing like Ortega's first regime, when state economic control was so heavy that people lined up for rationed food and hungry farmers could be jailed for butchering their own cows without permission.
"Daniel Ortega knows he made a lot of mistakes," Morales said. "He's honestly regretful."
Comments will be moderated. Keep comments relevant to the article. Remarks containing abusive and obscene language, personal attacks of any kind or promotion will be removed and the user banned. Final decision will be at the discretion of the Taipei Times.