Change occurring quickly in Kabul
From the flocks of schoolgirls dodging traffic to posters of Bollywood actresses, Kabul is a changed city.
These scenes were unthinkable when the Taliban was in power and can now almost be taken for granted, five years after the hardliners fled a wave of US bombs and Northern Alliance troops on the night of Nov. 12, 2001.
But much has stayed the same, like the poor power supply. Some things have gotten worse, like the corruption.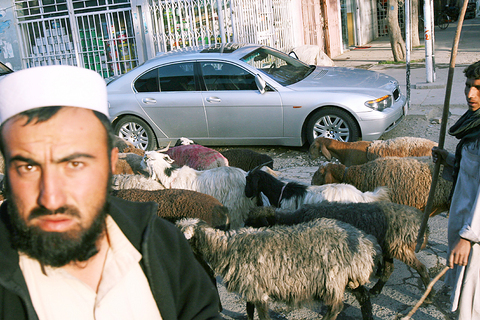 A man walks with his flock of sheep next to a luxurious BMW in Kabul last month. Such sights are becoming more common in the city today, five years after the country was freed from Taliban rule.
PHOTO: AP
And this has made the capital a bitter-sweet mix of old and new. Many note that at least under the Taliban there was less crime and no foreign troops to trigger attacks that kill more civilians than soldiers.
Today though, some women have shed the Taliban-imposed burqa, and a handful even drive. There is always a kite in the sky and music, also banned by the religious fundamentalists, thumps out from teenagers' rusty cars.
"I feel like I am reborn now," Nasreen Hashimi, 49, says, out buying vegetables in a market for her family.
Before the Taliban took the city, ending a four-year civil war that left it in ruins, Hashimi and one of her daughters had jobs and her other three children were students.
Then the fundamentalists came and stopped women from working and girls from going to school. Now her children are earning money or studying and she can afford to stay at home to care for her husband, paralyzed by shrapnel from the civil war.
Also upbeat is bus driver Mohammed Salim, 38.
"Obviously there is a big change," he laughs as he cleans his bus, its cabin plastered with pictures of Indian actresses.
"I used to drive this same bus under the Taliban. Then it was always half-empty with only bearded men with turbans and shalwar kameez [traditional tunic and trousers] as passengers," he adds.
Now at least a quarter of his seats are taken by young women from Kabul University, outside which he has parked.
Yet the signs of progress only lightly mask deep-rooted problems.
A semblance of peace has meant the return of refugees, causing the population to triple to around 4 million, sending unemployment and crime soaring and jamming the roads.
And never since the retreat of the Taliban has security been so tight with roadblocks, barbed wire, patrols and soldiers on the lookout for suicide attacks, bombings, demonstrations or kidnappings.
"For me nothing has changed for the better," pants 52-year-old Ghulam Ali grimly, as he struggles up a hill of mudbrick houses with a 30 liter container filled with water.
"There was no running water or electricity under the Taliban and it is the same now. The government and the West talk of spending billions of dollars. Where that money is, I don't know," he said.
For Ali, the 40,000 NATO and US-led troops trying to help the government take control have only brought fear.
"There was a good thing under the Taliban, which was security. But now when I ride my bicycle on the road and see any military vehicle or foreigners, I get scared that they will be targeted by a bomb and I will die," he said.
Comments will be moderated. Keep comments relevant to the article. Remarks containing abusive and obscene language, personal attacks of any kind or promotion will be removed and the user banned. Final decision will be at the discretion of the Taipei Times.