Eight explosions injure nine in Thailand's south
Eight bombs exploded almost simultaneously at car and motorcycle showrooms in restive southern Thailand yesterday, with initial reports showing nine people were injured by blasts that police blamed on Muslim insurgents.
Attackers posed as customers at the showrooms, planting explosives inside cars or near motorbikes, said Yala police Lieutenant Colonel Sakkarin Bamphensamai.
The blasts, which occurred in the Muang District of Yala Province at roughly 12:15pm, left a trail of damaged vehicles and shattered glass at each of the targets: a Honda, Nissan, Chevrolet, Mazda, Ford and Isuzu vendor and two motorcycle showrooms, Sakkarin said.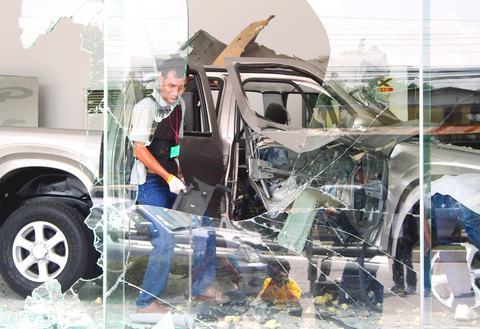 A Thai bomb squad officer searches for more evidence inside a car showroom in Yala Province in southern Thailand yesterday.
PHOTO: AP
He said the blasts bore the trademarks of past coordinated bombings launched by Muslim separatists.
"We believe that it is the work of insurgents," Sakkarin said.
Police Colonel Phumphet Phiphatpetchphoom said that initial reports showed nine people were injured.
The attacks came one day after a visit to the insurgency-wracked region by Thailand's new interim Prime Minister Surayud Chulanont -- his second visit in a week.
Violence has continued despite pledges from Surayud's interim government to make peace in the south a priority and to end the iron-fisted approach of his predecessor, Thaksin Shinawatra.
More than 1,800 people have died in sectarian violence in Thailand's three Muslim-majority provinces -- Yala, Pattani and Narathiwat -- since an Islamic separatist movement flared in January 2004.
Surayud has moved quickly toward efforts at reconciliation. He said earlier this week that Thai Muslims in southern Thailand should be allowed to practice Islamic law -- a major shift from previous governments that had been unwilling to make concessions to Islamic culture.
Comments will be moderated. Keep comments relevant to the article. Remarks containing abusive and obscene language, personal attacks of any kind or promotion will be removed and the user banned. Final decision will be at the discretion of the Taipei Times.