Oaxaca rally leaders urge calm
MODERATION Several protesters formed a human barricade to stop 20,000 demonstrators from clashing with the 4,000-strong federal police force
Leftists entrenched in a five-month-long conflict showed a side of moderation as they kept thousands of protesters from confronting lines of armed federal police in the southern Mexican city of Oaxaca.
The restraint on Sunday contrasts with recent violent confrontations and unrest in protests that have rattled Mexican President Vicente Fox's administration, scared tourists out of Oaxaca and left at least nine people dead.
Demonstrators are demanding the resignation of Oaxaca Governor Ulises Ruiz, accused of rigging the 2004 election to win office and sending groups of gun-toting thugs against his opponents.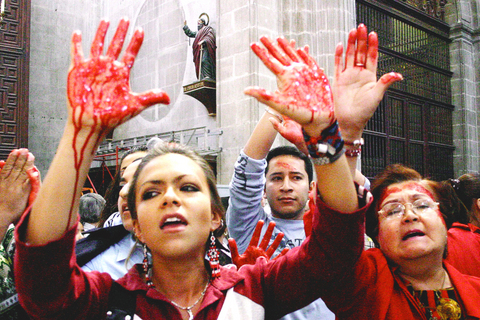 Some 80 people with their hands and faces painted in red simulating blood, protest at Mexico City's cathedral on Sunday. They reproached Cardinal Norberto Rivera for his comments on the protests in Oaxaca, where 10 people have been killed since a protest movement began over the city's tough handling of a teacher strike demanding higher wages.
PHOTO: AFP
On Sunday, more than 20,000 people marched into the center of Oaxaca to demand a recently stationed force of 4,000 federal police leave the city.
But when they arrived a block away from the police encampments, protesters formed a human chain to keep them from fighting officers packed behind barbed wire fences.
About 400 people broke through the chain and threw stones and bottles at policemen, who protected themselves with shields. Some police lobbed rocks back, while officers on rooftops used slingshots to fire marbles at protesters.
Protest leaders waded through the crowd urging people to stop fighting.
"We don't want confrontations. We are not in a violent movement,'' said leader Bertha Munoz, a doctor.
Many protesters wanted to fight the police again, despite their leaders' calls for restraint.
The police ``have to get out of here. If they don't, there are going to be more deaths,'' Alfonso Lopez, 43, said.
The student radio station reported that gunmen had fired at some protesters near the university on Sunday morning, injuring a 21-year-old student.
Jesus Velasco, 60, a businessman marching on Sunday, likened the police to an invasion force.
``They don't guarantee security; to the contrary, they scare us and are rude,'' he said.
The Fox administration says the federal troops are neutral in the conflict.
``We do not see them as part of the problem. We see them as part of the solution: to restore a minimal amount of order,'' Interior Undersecretary Arturo Chavez told foreign reporters on Saturday.
Archbishop Jose Luis Chavez called for an end to the conflict as he celebrated Mass at the cathedral on the main plaza, or Zocalo, where police are stationed.
In Mexico City's metropolitan cathedral, about 15 protesters interrupted Sunday Mass to shout support for the march in Oaxaca.
Meanwhile, three simultaneous explosions late on Sunday targeted the offices of one of Mexico's main political parties, the headquarters of the country's electoral tribunal and a bank.
Civil protection authorities said no injuries were reported, but declined to discuss details of the explosions, which happened around midnight, the government news agency Notimex said.
Radio station Formato 21 reported that the entrance to the head-quarters of the Institutional Revolutionary Party (PRI) was damaged, with some windows broken.
The radio station quoted a PRI representative as saying the explosions were carried out by groups trying to destabilize the government before President-elect Felipe Calderon's swearing-in on Dec. 1.
Comments will be moderated. Keep comments relevant to the article. Remarks containing abusive and obscene language, personal attacks of any kind or promotion will be removed and the user banned. Final decision will be at the discretion of the Taipei Times.