First female leader of Episcopal Church takes office
GET OVER IT The new leader of the 2.3 million member-strong denomination is ruffling traditionalist feathers with her liberal positions on ordaining homosexuals
Katharine Jefferts Schori took office as the first female leader of the Episcopal Church and the first woman priest to head an Anglican province, two landmarks that could quickly be overshadowed by divisions over the Bible and sexuality throughout world Anglicanism.
Jefferts Schori, who supports ordaining gays, acknowledged the rift in an elaborate ceremony on Saturday at the Washington National Cathedral, urging parishioners to "make peace" with those who oppose the direction of the US Church.
In 2003, the denomination consecrated its first openly gay bishop, Veteran Gene Robinson of New Hampshire.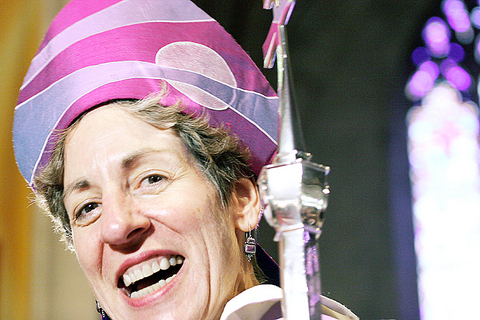 Reverend Katharine Jefferts Schori greets wellwishers after she was ordained as the 26th Presiding Bishop of the Episcopal Church at the National Cathedral in Washington on Saturday.
PHOTO: AFP
"If some in this Church feel wounded by recent decisions, then our salvation, our health as a body, is at some hazard and it becomes the duty of all of us to seek healing and wholeness," Jefferts Schori said during her ceremony.
Jefferts Schori, 52, was bishop of Nevada when she was the surprise winner of the election for presiding bishop at the Episcopal General Convention in June.
A former oceanographer who was ordained in 1994, she had served only about five years as a bishop.
Her election was celebrated as a victory for woman clergy and for Episcopalians who support full inclusion of gays and lesbians in the 2.3 million-member denomination.
It was, however, decried by US traditionalists and many Anglicans overseas who do not want to recognize Jefferts Schori's leadership.
More than 3,000 people filled the church to welcome the new presiding bishop.
Worshippers stood and faced the doors of the cathedral as Jefferts Schori knocked and entered, wearing a multicolored robe and miter.
She walked in a procession toward the front of the church, led by people waving streamers and flags, as applause and music filled the sanctuary.
Outgoing Presiding Bishop Frank Griswold, who just completed his nine-year term, turned over the symbol of authority, the primatial staff, and Jefferts Schori stood beaming at the altar as onlookers cheered.
She received blessings in Hebrew from a rabbi and Arabic from a Muslim scholar, as well as ceivingprayers in several other languages.
Jefferts Schori hopes to revitalize Episcopal parishes after years of declining membership and to advance the Church's fight against poverty and other social ills at home and abroad.
She urged Episcopalians on Saturday to work for shalom -- the Hebrew word for peace -- by endeavoring to heal the world's suffering.
But internal conflicts are likely to consume much of her time.
She will now represent the US denomination to the Anglican world.
Her job is complicated by her personal support for Robinson's election and for blessing same-sex couples, though she insists she will not impose her views on others.
She said the US Church should be willing to compromise "for a season" to stay in the 77 million-member Anglican Communion.
That may not be enough to appease other branches of the Anglican family, which take a traditional view that gay relationships are prohibited by Scripture.
Some Anglican leaders also reject the idea of women's ordination -- to which Jefferts Schori replied that they will have to "get over it."
Comments will be moderated. Keep comments relevant to the article. Remarks containing abusive and obscene language, personal attacks of any kind or promotion will be removed and the user banned. Final decision will be at the discretion of the Taipei Times.